The Ski Resort
When skiing in Oberstdorf/Kleinwalsertal, you can literally cross boundaries. The ski resort not only spans six mountains, it also stretches over two countries. You are looking at a total of 130km/81mi of slopes. With more than 70 runs of all difficulty levels, there is something for everyone, from absolute beginners to real experts.
Nebelhorn
Nebelhornbahn lift starts at the centre of Oberstdorf, and takes you to the mostly challenging runs on Nebelhorn mountain. The restaurant on the 2,224m/7,297ft high peak that makes Nebelhorn the highest ski resort in the Allgäu and bicountry region, is a particular highlight. From there, you get a unique view over 400 mountain peaks. Another special feature: the longest base run in Germany, with a length of 7.5km/4.7mi.
Fellhorn-Kanzelwand
From the German side, you get to the ski area Fellhorn-Kanzelwand on Fellhornbahn lift; on the Austrian side, grab Kanzelwandbahn lift from Riezlern. A perfectly groomed 36km/22mi of slopes expect you on the mountain. Freestyle novices find some diversion at the 840m/2,756ft long Fellhorn Funslope and at Easy Fellhornpark. If you have some terrain park experience under your belt, stop at CrystalGround by the base station of Kanzelwandbahn in Riezlern. Along with the neighbouring Kessler lift, it is illuminated every Wednesday from 7 to 9.30 pm given good snow conditions.
Walmendingerhorn-Ifen-Heuberg
Walmendingerhorn-Ifen-Heuberg is the largest ski resort in the bicountry ski area Oberstdorf Kleinwalsertal, featuring 67km/42mi of slopes. Heuberg mountain with its blue runs is particularly popular with families, while Walmendingerhorn and Ifen challenge experienced winter sportsmen with red and black runs. Night skiing is possible on Heuberg every Thursday, when Hubertus lift is illuminated from 8 to 10 pm.
Söllereck
Söllereck is perfect for families. The easy to intermediate runs around Söllereckbahn lift are particularly suited to beginners and returners. The little ones learn all about winter sports at Söllis Winterwelt, with the help of figure slalom, magic carpet, and carrousel. If you want to ski on Söllereck only, you can get a cheaper day ticket that is valid exclusively at this resort.
Interesting facts
Offering 81 miles of slopes and terrain, Oberstdorf Kleinwalsertal is among the 15 largest Ski Resorts in Austria.
Elevated between 2690 ft and 7297 ft, the Ski Resort is among the 10 highest elevated Ski Resorts in Vorarlberg. The vertical drop from summit to base is 4606 ft. The average difference in altitude between base and summit of Ski Resorts in Austria is 2362 ft. Most runs are therefore relatively long.
Average snow depth during the season is 71 " at summit elevation and 9 " at base elevation. Snow coverage is usually best during March, offering an average snow depth of 94 " at summit elevation and 12 " at the base.
Oberstdorf Kleinwalsertal features 77 sunny days on average per season. The average for all ski Resorts in Austria is 71 sunny days. March is the sunniest month with an average of 24 sunny days.
Snow Safety & Snowmaking
Snowphone+43 (0)820 949499
Average snow depth of the last years (Summit)
(in ")
On Mountain Dining
The bicountry ski region Oberstdorf Kleinwalsertal is certainly not short on culinary options. The summit restaurant Nebelhorn 2224 not only boasts local specialities, but a unique panoramic view over 400 Alpine peaks as well.
At Hammerspitzbar on Kanzelwand, daily changing soups, antipasti platters, and Walser minced meat stew are on the menu. At Kanzelwandbahn's top station, you can also find a panoramic restaurant, which is known for its strudels and Austrian desserts. On the wind-protected terrace, you can enjoy the sun on free deckchairs.
The new restaurant Tafel&Zunder at the top station of Ifen II serves regional delicacies made of local organic produce.
Must-Ski Runs
Longest Runs
Bergstation Söllereck - Höllwies
Length: 1.9 miles
Vertical Drop: 2066.9 ft
Gipfelstation Nebelhorn - Talstation Nebelhorn
Length: 4.7 miles
Vertical Drop: 4580.1 ft
Hahnenköpfle-Talstation
Length: 3.9 miles
Vertical Drop: 2460.6 ft
Talabfahrt Kanzelwand-Riezlern
Length: 2.6 miles
Vertical Drop: 2854.3 ft
Most Difficult Runs
Nebelhorn-Gipfelhang
Length: 0.4 miles
Vertical Drop: 656.2 ft
Olympiahang
Length: 0.6 miles
Vertical Drop: 1049.9 ft
Rote Buckelpiste Zweiländer
Length: 0.4 miles
Vertical Drop: 639.8 ft
Nightskiing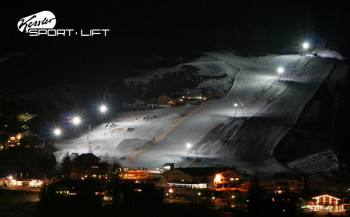 Besides the Kanzelwand base station, Kessler lift and CrystalGround Snowpark are also illuminated on Wednesdays from 7 to 9.30 pm. A nearby snow bar invites you for a night cap.
Videos
Bestellen Sie jetzt Ihre Saisonkarte... | 01:05
Die neue MyMountainCard-Flex & der neue...Video mit Untertiteln
Nachbarschaft - Bergbahnen...Skifahren bei den Bergbahnen Oberstdorf/Kleinwalsertal -...
Kleinwalsertal Ifen Ski - Bergwasser geht...http://blog.xn--canyoningallgu-iib.de/kleinwalsertal/ -...
NTC Park SpotDer Wintererlebnispark am Nebelhorn
Activities
A 2.5km/1.6mi nature toboggan goes from Seealpe right down to the base station in Oberstdorf. You can rent traditional wooden sleighs at Berggasthof Seealpe. If that's not enough action for you, go to NTC Park on Seealpe. With a snow tubing run and a fun sports run, where non-skiers can go wild with airboards, snowbikes, snowfox and more, a diverse snow experience is guaranteed. At Burmis Winterwelt by the base station of Ifenbahn you can find another tubing run. The spectacular, 100m/328ft Nordwandsteig trail going round the peak of Nebelhorn is another highlight.
Even off-piste you can find swift runs on Söllereck. At the all-year toboggan Allgäu Coaster, you reach speeds of up to 40 km/h. In January and February, ski tourer nights are held here as well. Every Thursday, the main run is open from 6 to 10 pm. The destination of the tour is Berghaus Schönblick.
The mountains at the bicountry ski region are also very popular among winter hikers. On groomed high routes, you can explore the sunken Hühnermoos moor on Söllereck, the snow dunes at Gottesacker on Ifen, or Seealp lake on Nebelhorn. Furthermore, a network of 125km/78mi of cross-country tracks stretches through the valleys of Oberstdorf and Kleinwalsertal.
Getting here
Coming from motorway A7, exit at Dreieck Allgäu and change onto A980, which you follow to exit Waltenhofen. Follow B19 via Immenstadt and Sonthofen to Oberstdorf.
Nebelhornbahn base station is located at the ice sports centre in Oberstdorf. To get to Fellhornbahn, turn left at Jauchen, and drive along Stillach to the base station. Söllereckbahn is located behind Jauchen, near Kornau, right off B19. Following B19 you get to Austria. B201 leads to Riezlern, Hirschegg, and Mittelberg, where the lifts Kanzelwand, Heuberg, and Walmendingerhorn are located. You get to Ifen by turning right at Parsennbahn on Heuberg and onto Schwarzwassertalstraße.