A long-held vision has become reality: the Czech ski resort Klínovec has merged with the neighbouring area of Boží Dar-Neklid, thus becoming the country's largest ski centre.
Connecting Klínovec and Neklid
Klínovec is one of the most popular Czech ski resorts among Germans. Not only its proximity to the border makes it an attractive destination, its connection to Oberwiesenthal ski resort is another factor pulling winter sportsmen towards the Ore Mountains.
From season 2018/2019 on, the two ski resorts of Klínovec and Boží Dar-Neklid are connected not only through a road, but through a blue slope as well. The more than 3 miles long circuit run goes all the way from Klínovec's peak to the lifts of the Neklid area, and on to the base station of Prima Express quad chair, which will bring you back to the top. This new connection adds 6 lifts as well as a terain park to Klínovec.
Merge of the Largest Ski Resort in Czech Republic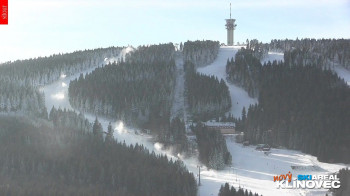 With its 18 kilometres (approx. 11 miles) of slopes, Klínovec was the largest ski resort in the Ore Mountains even bevore the merge. Thanks to the connection with Neklid, the skiable terrain has almost doubled, from 42 to 74 hectares. Hence, you can now look forward to more than 30 kilometres (almost 19 miles) of slopes, turning Klínovic into the largest ski centre of Czech Republic.
Along with the nearby German resort Oberwiesenthal on Fichtelberg, you get even more miles. If you're skiing for 1.5 days or longer, you get to explore the full 47 kilometres (30 miles) of slopes at the InterSki region. A regular ski shuttle takes you from Klínovec to Fichtelberg and back for free. The ride takes only 10 minutes.
Further Novelties for 2018/19
Along with the newly merged super ski resort, visitors may look forward to two further novelties. The popular blue run Dámská has been widened by 100%, and is now as wide as 40 metres at some points. Furthermore, investments into snow making guarantee even more snowsafety for the new season.
>> More information on Klínovec ski resort
The Five Largest Ski Resorts in Czech Republic