The Ski Resort
The Klínovec ski area, 120 kilometres north-west of Prague is the largest ski area in the Czech Republic. The region is particularly popular with German guests due to its proximity to the German border and the neighbouring ski area of Oberwiesenthal Fichtelberg. 90 percent of the ski area's 30 kilometers of runs can be served by snowmaking facilities. As a result, visitors can enjoy winter sports throughout the colder months here, even when natural snow conditions are not ideal.
The CineStar Express chairlift, which you can reach via the Parezovka run, was the first lift in the Czech Republic to fit an orange protective hood. In the time since, the SUZUKI chairlift and another lift on the south side of the ski area have also adopted this eye-catching orange look.
Overall, Klínovec boasts five chairlifts and eight surface lifts with a total capacity to carry nearly 20,000 people per hour. Four chairlifts take skiers up to the summit of 1,244 m Klínovec Mountain. From the top, skiers have a choice of four different red-marked runs, four blue-marked trails and one black-marked piste. Another chair lift is located at the Neklid area.
The south side of Klínovec also features a training area with magic carpet lifts for young skiers, multiple bars and snack bars as well as a ski school and rental service. In addition, there is also a terrain park which offers up plenty of jumps, features and even a half pipe for freestyle skiers and snowboarders.
If you buy a ski pass for 1 1/2 days or longer, you can also try out the slopes in the neighbouring ski area of Oberwiesenthal Fichtelberg on the German side of the border as part of the InterSkiregion Fichtelberg. A free ski bus even runs between the two ski resorts. As a result, skiers and snowboarders can carve up a total of 47 kilometers of runs spanning all levels of difficulty.
Snow Safety & Snowmaking
Snowphone
+42 (0)731 150456
Average snow depth of the last years (Summit)
(in ")
Travel Deals & Tips
Advertisement
On Mountain Dining
There is also a lodge for refuelling at mealtimes on the summit of 1,244 m Klínovec – unparalleled views of the surrounding area come as standard.
There are other options for food and drink alongside chairlift A, at cashier desks 2 and 4 as well as along the red-marked 4a run, which starts at the valley station of surface lift E and runs down to a cashier 4. You can also take a break at the valley station of surface lift I, which is fed by the blue-marked run 10 and red-marked no. 9.
Must-Ski Runs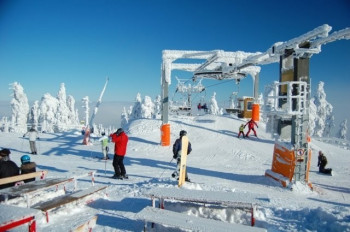 Surface lift D also offers the opportunity for night-time skiing on a blue-marked 500 m run. All valley stations can be reached via blue or red-marked descents, and are therefore within easy reach after the lifts close.
The longest run in the entire ski area is the 2.9-kilometre run no. 1 Jáchymovská, dropping some 490 metres in altitude over its course.
Meanwhile, the most challenging run on Klínovec is undoubtedly trail no. 1 U zabitého, which descends 180 vertical metres over its 800-metre length.
Most Difficult Runs
Piste 20 Neklid - Karásek II.
Videos
Skiareál Klínovec 25.01.2020 - 4K
Skigebiet Keilberg (Skiareal Klínovec)
Klinovec Skiareal Slope 1 2016-01-22 GOPRO POV Full HD
Fantastic Czech Ski Resort(체코스키장) - Klinovec Ski Areal
Klínovec - Jáchymovská, 13.2.2015
Après-Ski and Nightlife
The children's sled run Klinovec at children's ski lift F is ideal for keeping young visitors happy throughout the day.
There is also a viewpoint tower on the peak of Klínovec Mountain, which opens its doors between 9 AM and 5 PM.
Dining and Restaurants
Numerous restaurants in the villages at the foot of the mountain serve Czech specialities, such as the famous Bohemian dumpling, most notably Restaurace Bernard in Bozí Dar.
Getting here
By car:
The Klínovec ski area is around 120 kilometres from the Czech capital Prague and around 100 kilometres from Pilsen. The villages of Bozí Dar and Lázne Jáchymov act as gateways to the ski area.