The Ski Resort
The ski resort at Fichtelberg in the Erzgebirge mountains is the biggest ski resort in Eastern Germany with 16 kilometers (10 miles) of accessible terrain. Winter athletes can choose between ten skiable trails on either big Fichtelberg (1.215m) or small Fichtelberg (1.206m).

The adventure starts in Oberwiesenthal where you can catch a ride with Germany´s oldest suspension railway to the top of Fichtelberg or you grab the chairlift to reach the top of the mountain. You can find most beginner trails at small Fichtelberg in the valley. The t-bars bring the ski newbies right back up the mountain. Young ski beginners love the kids park ´Fichtelchens Winterland´ close to the valley station of the suspension railway. It welcomes with a ski carousel, six magic carpets and a terrain park that includes easy obstacles.

For those looking for easy runs it´s best to ski down the blue forest runs (No. 9 and 10) at the top of Fichtelberg. Those runs take you right to the ski tow Himmelsleiterlift. Thanks to the parking lot at the base station it´s a perfect entrance to the ski resort and you have access to the small Fichtberg as well. From here you can head down the blue No. 2 that takes you through the forest and turns into a wide slope after. Perfect for carving! Then ride ski tow ´Kleinen Fichtelberg Kurvenlift´ to get up the small Fichtelberg and access even more red runs.

While the area does designate mostly beginner and intermediate runs, advanced skiers and riders are not without their runs. For example the black race slope at Schönjungferngrund is a good reason for experts to give this ski resort a shot. Follow for 1,2 km (0,74 miles) along the chairlift and suspension railway and overcome a height difference of 300 m (984 ft) for your ultimate personal challenge.

An additional attraction that speaks for Fichtelberg is night skiing. The main slope of Fichtelberg lights up until 9 pm every Friday and Saturday. A terrain park is located close to the suspension railway and welcomes visitors with a kicker line, wood line and a barrel rail combo.

In case you decide to stay longer than a day at Fichtelberg it makes sense to explore the runs that ski resort Klinovec in Czech Republic has to offer. It comes for free if you purchase a ski pass for longer than 1,5 days. The complimentary ski bus brings you over the border where 12 km (7,4 miles) of additional trails are awaiting you.
Snow Safety & Snowmaking
Snow Making Machines:
141
Average snow depth of the last years (Summit)
(in ")
Travel Deals & Tips
Advertisement
On Mountain Dining
The Fichtlberghaus at the summit welcomes for a break. It includes the restaurants Erzgebirgsstuben, ´Das Guck´ and Himmelsleiter with a self-service cafeteria catering to every skiers appetite. The fast food restaurant Zur Schwebebahn takes care of hungry skiers in the valley. Stop and get snacks and small meals at Berghütte Pistenblick, situated right between ski tow ´Kurvenlift´ and the chairlift.
Must-Ski Runs
Follow the 2,5 km (1,5 miles) long valley slope from the summit back to the base of the mountain station (No.3)
Advanced athletes can speed from the summit all the way to the valley.
Longest Runs
Fichtelberg-Talstation Seilbahn Nr. 3
Most Difficult Runs
Rennstrecke unter der Seilbahn R
Videos
Fichtelberg Imagefilm Full HD
Winterfaszination Sachsen – Fichtelberg in Eis und Schnee
Fichtelberg Skigebiet Oberwiesenthal - Erzgebirge im Winter
Fichtelberg Rundflug Winter 2016/2017
EASTSIDE SNOWPARK | Good Vibes 2018
Activities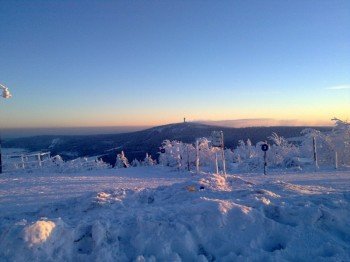 The Fichtelberg is not only home to numerous ski trails but also to a natural tobogganing run. To get here you need to grab the suspension railway. The 1,8 km (1,1 miles) long run that takes you through the forest and descends into the valley. Hammerunterwiesenthal offers a toboggan run as well, it´s only 300 m long (984 ft), ideal for tobogganing beginners. It doesn´t stop here: Oberwiesenthal has a natural ice-rink and five well-tracked winter hiking trails. Boží Dar is just three kilometers away and the great snowtubing run is worth the trip. Oberwiesenthal has an extensive wellness offer, so it´s the right address for those preferring relaxation over action after a day of skiing.
Après-Ski and Nightlife
Apres-ski fans usually meet at Sabines Schirmbar in Oberwiesenthal. Prijut 12, located at the valley station of the suspension railway and chairlift is where´s never a shortage of live music. Lounge atmosphere and a cozy chimney expect you at kiwis and leaves you tempted to enjoy a cocktail or mixed drinks. In the cozy wine cellar of the Rotgierhaus you can tap your own beverages from wine casks.
Number of Bars and Pubs:
2
Dining and Restaurants
Even at dinner time it´s worth to make the trip up the mountain Fichtelberg. ´Das Guck´ restaurant spoils their guests with fresh ingredients and an international menu that still includes local specialties. The restaurant at Hotel Jens Weissflog serves typical dishes from famous ski jump places. The Rotgiesserhaus restaurant has regional specialties on the menu and is well-known for wild game dishes by their own slaughtering.
Number of Restaurants:
10
Infrastructure & Rental
Skischools
Number of Snowboard Schools:
6
Getting here
By car
Take A4, A9, A13 or A72 direction Chemnitz. From there continue on B95 and pass Annaber-Buchholz to Oberwiesenthal.

By train
The next station for long-distance trains is in Chemnitz. From there you have connection to Cranzahl where you can change trains to Oberwiesenthal with the Fichtelbergbahn.

By plane
The closest airports are Leipzig and Dresden.