In Kitzbühel, the first skiers will be on the slopes again in mid-October. But how does that even work? Skiing in regions that are usually not blessed with snow in October is now possible thanks to the so-called snowfarming method, which preserves snow of the previous season. Snow-Online.com explains how this works, why more and more ski resorts decide to do it and where exactly this is done.
What Is Snowfarming and How Does It Work?
Snowfarming, literally translated as "growing/cultivating snow", simply means that at the end of the winter season you pick up some snow to be able to use it again at the beginning of the new season. On the last day of operation, the remaining snow is collected to form a large heap and is brought to a so-called snow depot. With the aid of snow groomers, the white splendor is shaped into a trapeze and compacted.
Afterwards, the snow depot is insulated with hard foam boards or in deeper layers (e. g. for the use in cross-country skiing areas) with wood chips or sawdust. To additionally protect the snow from water ingress, a silo foil is laid over it. The last layer consists of fleece, which protects the snow from sun and UV radiation.
On-Time Season Opening Due to Snow Depots
When fall is on the horizon and temperatures are getting a lot cooler, the old snow's last hour has come. The snow depot is uncovered and the snow is distributed on the slopes. The whole procedure lasts about a week; shortly after, the snow can be re-used for skiing.
But why is this actually done? Well, it is quite plain: In contrast to fresh new snow, snowfarming is less dependent on weather conditions. Moreover, ski resorts benefit from snowfarming, as they are able to fix a date for the season opening in advance, which does not depend on actual snowfall.
This, in turn, is of course decisive for marketing reasons, as many guests start planning their ski holidays in late summer or at the beginning of fall. In addition, many professional athletes also benefit from the fact that they can schedule their training sessions as early as fall. This is relevant for the European ski resorts of Kitzbühel, Sölden or Saalbach-Hinterglemm, for example.
Snowfarming in Northern Winter Sports
Snowfarming Davos | 02:24
Snowfarming has been used in Scandinavia for more than 20 years to prepare the first cross-country ski trails. In the meantime, the use of snow depots has also spread in the Alpine regions' Nordic winter sports. One of the prime examples of this is Davos Klosters, where cross-country skiers are free to use the first cross-country trails at the end of October.
Around 6,000 cubic meters of snow have been preserved annually since 2015 in the Seefeld Olympic region. In November, a 1.5 km long and 6 m wide training track can be opened for use.
Summer Cross-Country Skiing in Livigno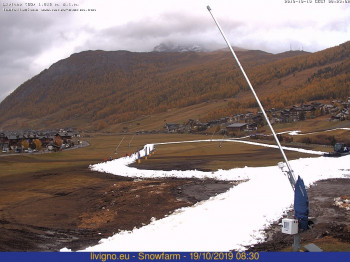 The revolutionary method is also used in Ramsau am Dachstein and Livigno, Italy: Thanks to snowfarming, Livigno also hosts an annual cross-country skiing event in the middle of the summer, the traditional "Trofeo delle Contrade". The first winter track is expected to open in mid-October and offers perfect conditions for the professional athletes' World Cup preparation. However, all other non-professional winter sports enthusiasts can also indulge in winter sports starting in October.
Videos
Snowfarming Davos | 02:24
Snowfarming - LanglaufenSeit dem 11.11.2016, kann in der Olympiaregion Seefeld...
Snowfarming in Ramsau am Dachstein -...Ramsau am Dachstein recycelt Schnee aus der letzten...
Think green: Snowfarming in Ramsau am...Der Gedanke des Snowfarming ist nicht neu, denn schon bei...