Skiing vacations have been cancelled for many this year due to the lockdown. Those who still have some catching up to do or simply can't wait until next winter, can strap on their skis or snowboard in summer too. At the Mölltal Glacier in Carinthia, for example, there is currently still over two meters of snow on the mountain. Many professional teams use this to prepare for the new season.
Offene Lifte und Pisten
Slopes open at Schareck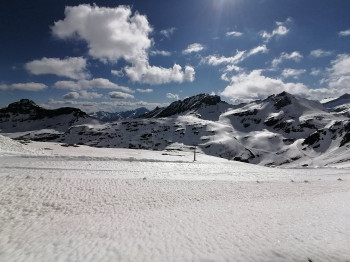 On the Mölltal glacier the ski lifts are also in operation in the summer months. The summer season on Carinthia's only glacier has been running since 22 May. The Glacier Express and the Eissee Gondola take you up to the ski area.
There the Gletscher Jet and the Chairlift 3000 take you to the four open slopes at Schareck. The trails are located between 2,800 and 3,122 metres. Many professional teams use the snow-assured conditions on the glacier to train and test the new ski models.
Schneehöhen
The trails on the Mölltal glacier are open in summer from 8am to 2pm. The last descent with the Gletscher Express is possible at 4 pm. Skiers don't have to do without the stopover in summer either. The Panorama Restaurant Eissee is also open. Due to the current corona situation, masks are mandatory in some areas. A day ticket in the summer season costs 49 euros.
Funpark opened
Since the beginning of July, freestylers can use the snow park at the "Mölli". At the moment it consists of flat-rail, double kink rail, downrail, canonrail and a 14 meter jump, more obstacles are to follow.
WebcamEntityBox
Further options for summer skiing in the Alps