The Hotel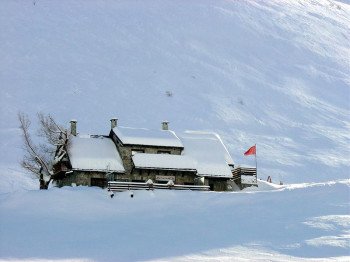 Our small hotel is a traditional alpine lodge with 4 rooms in the mountains of Limonetto, Maritime Alps, located at 1500 mts. a. s. l. directly on the italian/french border; it's managed by family Merolt since 2003.
We have a fifth room downtown Limonetto (BB L'Abric).
It has a restaurant where you have breakfast and enjoy dinner in front of the fireplace, a big solar terrace, 3 double rooms and a three-beds room (mini-suite) equipped with shower, toilet, telephone, WI-FI.
The hut has been completely rebuilt in 2003 using stone, wood, lime and iron, mixing tradition and modernity, respecting the typical local architecture.
It's a small relaxing corner, a well kept hidden secret for your holiday with steam room (turkish bath), aroma and music therapy.
In winter, access is by ski down the slopes of Limonetto or with the snowmobile service, while in summer the hotel can be reached by trekking trails or 4WD road.
Parking Area with direct access
Rooms
All rooms with a separate bathroom
Travel Deals & Tips
Advertisement