The Hotel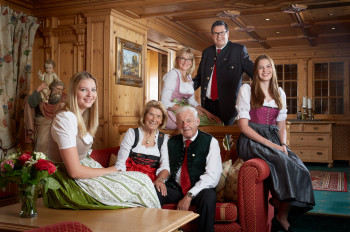 Hotel Gletscherblick- Enjoy your best time of the year with us!
Find your personal home in St. Anton am Arlberg. As you embrace the cozy, homely charm of our four-star hotel, you will find in a family the peace and security that you deserve in a family atmosphere.
Parking Area with direct access
Rooms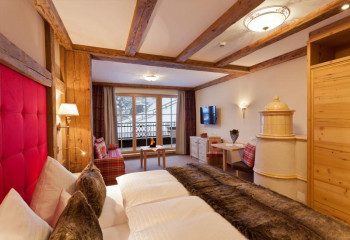 None of the rooms and suites resemble the other and yet they all unite the loving design.
We know that every holiday guest is special. That's why we have furnished our rooms and suites accordingly. You will surely find the room that best suits your needs.
All rooms with their own shower
Restaurant & Fine Dining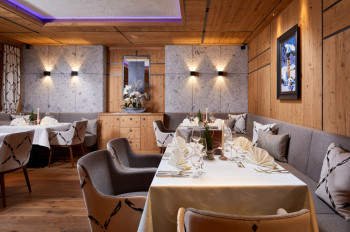 From the healthy culinary start-of-the-day to the five-course menu or gala dinner in the evening – enjoy the taste of holiday!
Holiday is the time for delights. That is why Gletscherblick's kitchen and wine cellar especially well cared for. The luxury board is like the precious frame for the daily feasts of the senses. Life quality and delicious food are two sides of a coin, so we pay extra attention to offering excellent cuisine at Hotel Gletscherblick in St. Anton am Arlberg.
Since summer 2016, Paul Markovics has pampered the guests as a new chef, thus strengthening the reputation of the hotel as an excellent connoisseur's meeting place.
Spa & Wellness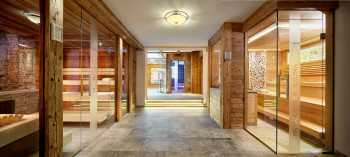 Immerse yourself in a relaxing time out
The ALPIN VITAL wellness center in Gletscherblick has redefined alpine wellness. But it is even better. Just in time for the 50th winter season in our house, we have made a special gift: With our new indoor pool measuring 12.5 x 5 meters, two spacious new relaxation rooms and a terrace with adjoining garden area, our wellness and spa oasis is now double as big as before!
Must-Sees Nearby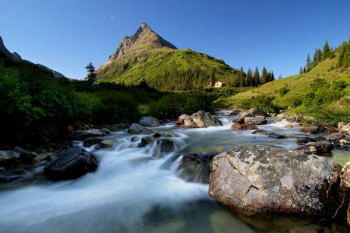 Active summer break
During the summer, the picturesque mountain village St. Anton am Arlberg becomes the destination for guests and families who are searching for an active yet peaceful holiday with lots of fresh air. Needless to say: here it is!
Hiking in the mountains is a summer holiday favorite, and that is why there is more than 300 km marked trails leading you into the mountains, past Alp meadows and through forests surrounding St. Anton am Arlberg.
Activities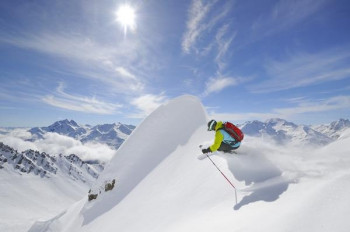 The incomparable flair of the Arlberg - every skiing enthusiast should have experienced it at least once
Sophisticated winter legend and a myth very much alive: St. Anton is the cradle of Alpine skiing and the rendezvous for the international ski jet set.
The slopes with the most varied terrain of the Alps, sports & fun parks meet another type of winter rest. Alpine Spa in crystal clear air, a walk through winter-wonderland, a dream all in white...
Travel Deals & Tips
Advertisement
Kids & Families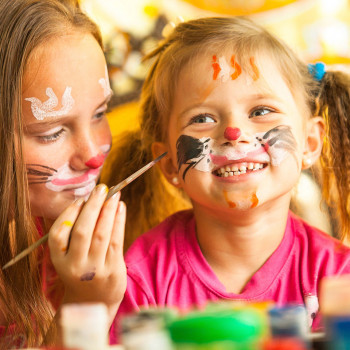 Children in hotel Gletscherblick
Children are most welcome in all our three houses. We offer childrens seats, babyphones, baby cots and as parents, of course, a lot of love and understanding.
Children watched! Fun and games are offered in our friendly children's playroom.
Getting here
Arrival by train
St. Anton am Arlberg is Eurocity station. The train station is very close to the center. All important international express trains stop in St. Anton am Arlberg. We are happy to pick you up from the station. Please let us know your arrival time.
Airport Distances
Innsbruck airport about 1 hour
Zurich Airport about 2.5 hours
Munich airport about 3 hours
How to find our hotel
Direction Innsbruck or Garmisch: drive to the entrance E (Nasserein) approx. 100 m before the Shell gas station and turn right. Direction Lindau - over the Arlbergpass: approx. 100 m after the petrol station - turn on the E (Nasserein) entrance - turn left. After about 100 m (Hotel Nassereinerhof) turn right into our St. Jakob district. After another 800 m you will find our hotel on the left side of Dorfstraße.
We wish you a pleasant trip!