The famous bound of 4,000 metres above sea level is almost within reach when you ski in India, the USA, Switzerland, France, and Russia. However, the highest-altitude ski resort in the world is currently located in China, going as high as 4,700 metres. In Bolivia, skiing was even possible as high as 5,200 metres until 2007/08. With its incredibly high location, the resort of Chacaltaya used to be the Mount Olympus of skiing – until the glacier disappeared entirely.
However, winter sportsmen can still experience extreme altitude further-afield. Snow-online presents the ten highest ski resorts in the world.
1. Jade Dragon Snow Mountain 4,700m (China)
The ski resort that is currently the highest in the world, is located in the South-Chinese province Yunnan. Its base station alone would get Jade Dragon Snow Mountain Ski Resort the title of highest ski resort in the world, as the entire resort is located between 4,500 and 4,700 metres. Two short lifts are operating up here, making slopes of up to 1,000 metres accessible. It goes without saying that snow is never scarce during the season.
2. Gulmarg 3,980m (India)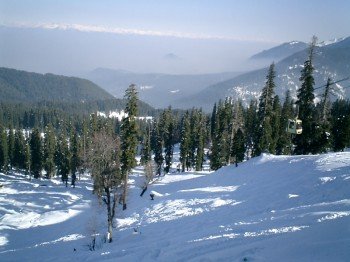 Until only a few years ago, the Indian ski resort Gulmarg as the highest resort in the world. It is situated in the province of Kashmir, amidst the Himalaya. A cableway goes as high as 3,980 metres here. Only back-country skiers venture all the way to the top, as groomed slopes are only available at the lower part on up to 3,045 metres. Around 14 metres (46 ft) of snow per year come down at Gulmarg. Remarkable indeed, but it also comes with a high risk of avalanches.
Travel Deals & Tips
Advertisement
3. Breckenridge 3,914m (USA)
At Breckenridge in the USA, winter sports are possible at up to 3,914 metres high. The highest-situated ski resort of the United States is an expert and back-country skier's paradise. Five peaks feature 180 diverse runs that are waiting to be explored. The ski area in Colorado is also famous for its legendary Champagne Powder. The especially fluffy snow is perfect for back-country skiing on ungroomed slopes.
4. Zermatt 3,899m (Switzerland)
Zermatt in Switzerland ranks fourth among the highest ski resorts. That makes it the highest-altitude resort in Europe. Its highest runs on Klein Matterhorn go up as far as 3,899 metres. The runs here are marked blue and red, and are hence ideal for pleasurable carving. Thanks to Theodul glacier, skiing is possible on 365 days of the year – another superlative! Winter 2018/19 has Zermatt seeing a new highlight – the worlds highest cablecar (Snow-online reported).
5. Loveland 3,871m (USA)
Number five in our ranking takes us back to the USA. At Loveland, you ski at an elevation of up to 3,871 metres. Just like Breckenridge, Loveland is one of the most popular ski resorts in the state of Colorado. It is especially suited to intermediate and expert skiers. Loveland Basin offers diverse and challenging runs. The resort is easily accessible, as it is located at Lovelandpass by Interstate 70, around 1.5 hours from Denver Airport.
6. Tochal 3,850m (Iran)
Number six is rather exotic. At Tochal ski resort in Iran, the highest point has an altitude of 3,850 metres. The mountain above capital Teheran is serviced by a gondola. The winter sports area also features what is probably the world's highest ski hotel: Hotel Tochal is situated at 3,545 metres high. Since 1976, locals as well as visitors of the Middle East come here to ski.
7. Chamonix 3,842m (France)
Aiguille du Midi in France boasts runs at up to 3,842 metres. The mountian is part of Chamonix ski resort, and offers a stunning view of Mont Blanc along with its high-altitude slopes. The viewing platform "Step into the Void®" at Aiguille du Midi's peak is an adrenaline-filled addition. From here, you cast a glance down into the 1,000 metre deep void.
8. Mt. Elbrus 3,840m (Russia)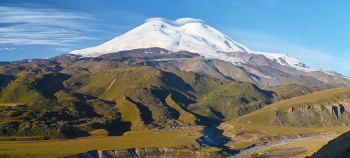 Another one of the world's ten highest ski resort is Mt. Elbrus in Russia. The 5,646 metre mountian is the highest elevation in Europe. The slopes are located at an altitude of up to 3,840 metres. But skiers are supposed to fly even higher in the future. New lifts and runs at up to 5,000 metres are planned. With that, Mt. Elbrus would rise to be number one, coming close even to the former frontrunner Chacaltaya in Bolivia.
9. Telluride 3,831m (USA)
At an elevation of 3,831, Telluride in south-west Colorado is one of the most popular resorts in the USA mainly for its large off-piste terrain. Of the 127 runs, 41% are marked black. Hence, the resort is perfect for althletic skiers and snowboarders looking for a challenge as well as for powder fans. On average, Telluride sees more than 7.5 metres (25 ft) of fresh snow each season. Furthermore, the resort boasts up to 300 sunny days per year.
10. Aspen Snowmass 3,813m (USA)
The US-American state of Colorado is one of the most important winter sports destinations in the world. Our ranking colcludes with another one of its ski resorts: Aspen Snowmass. Its highest elevation is at 3,13 metres. The legendary mountain features countless Double Black Diamond Runs in store, the most demanding category in North America, as well as a lower section with intermediate runs.
Overview of the World's Highest Ski Resorts
| Rank | Ski Resort | Country | Altitude |
| --- | --- | --- | --- |
| 1. | Jade Dragon Snow Mountain | China | 4,700 m |
| 2. | Gulmarg | India | 3,980 m |
| 3. | Breckenridge | USA | 3,914 m |
| 4. | Zermatt | Switzerland | 3,899 m |
| 5. | Loveland | USA | 3,871 m |
| 6. | Tochal | Iran | 3,850 m |
| 7. | Chamonix | France | 3,842 m |
| 8. | Mt. Elbrus | Russia | 3,831 m |
| 9. | Telluride | USA | 3,831 m |
| 10. | Aspen Snowmass | USA | 3,813 m |