As of February 12, ski resorts and hotels in Poland will be allowed to reopen. After the infection figures have stabilized somewhat in recent weeks, the Polish government is now trying to slowly return to normality with gradual relaxations, while remaining cautious. The new rules will initially only apply for two weeks.
Ski resorts closed since December
Ski resorts in Poland have been closed since December 27, 2020. A short pre-season for the operators, because due to the lack of fresh snow, the slopes could only be opened shortly before Christmas. After the Christmas holidays, skiing was then closed again and since then only pedestrians were allowed to use the facilities as part of walking or hiking in the mountain resorts.
Originally, the slopes should then have been reopened on January 18, 2021, but the high infection figures did not allow this yet. Since then, the Corona situation in Poland has stabilized to a certain extent. The new infections are significantly below the peak values of the second wave in November and are comparable to the situation in Germany. For this reason, the government is now allowing gradual relaxation of the Corona restrictions from February onwards.
Easing on a trial basis
After the retail trade and museums have already been open since February 1, cinemas, theatres, as well as hotels and guesthouses will now also be allowed to reopen from Friday, 12 February 2021, subject to strict conditions. Seats or beds, for example, may only be half occupied. As restaurants remain closed and are only allowed to offer take-away or delivery service, hotel restaurants will also remain closed. Food will only be served in the room. Unlike gyms, sports swimming pools, outdoor sports fields and the more than 30 ski resorts are also allowed to resume operations. In view of the good snow conditions, these are also ready to do so at any time. In addition, further fresh snow is forecast for the next few days (snow reports).
With the relaxations, the Polish government is also reacting to the ongoing resistance from businesses in the hotel, gastronomy and tourism sectors, which has become increasingly louder in recent weeks. However, the fear of a new wave due to the relaxed measures remains high.
Therefore, the relaxations are in force for two weeks for the time being. How things continue after that depends on how the numbers develop. If the 10,000 infections per day mark is exceeded again, the measures will be tightened once more, according to Health Minister Adam Niedzielski. Currently, the number of new infections per day is between 4,000 and 5,000.
Update February 25, 2021: The ski resorts and hotels remain open after the two-week trial period. The new measures are valid for the time being until March 14.
Update March 20, 2021: Poland returns to hard lockdown due to sharp rise in infection numbers. Ski resorts and hotels closed again from 20 March.
Travel Deals & Tips
Advertisement
Corona measures in the ski resorts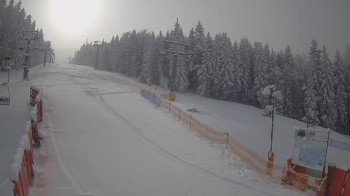 To ensure safe skiing, the ski resorts have developed comprehensive hygiene concepts. Mouth and nose protection must be worn in all queuing areas, whether at the ticket office or at the lift, while riding the lifts and in enclosed areas. In Poland, masks are compulsory in almost all public areas, i.e. in shops, public transport and schools, but also on the street, in squares and car parks. The minimum distance is 1.5 metres. This distance must also be observed in the ski area. To avoid queues at the lift ticket office, it is also possible to buy tickets online in advance, especially in the larger resorts.
In addition, the lift capacities are limited in some ski resorts. The chairlifts and gondolas are not fully occupied. Restaurants in the ski resorts are closed. However, some offer take-away service. You can find out which rules apply in the individual ski areas in our ski area entries. There you will also find links to more detailed information.
Entry only possible with restrictions
The open ski areas, however, remain primarily reserved for local guests. For guests from abroad, comprehensive conditions apply. When entering Poland, a 10-day quarantine obligation applies in principle. However, there are exceptions, including for commuters, people who can show a negative test result that is not older than 48 hours and people who can prove that they have been vaccinated against Covid-19. As Poland is classified as a risk area in many countries, a quarantine period may also need to be planned when returning to the home country.
In the neighbouring countries Germany, Czech Republic and Slovakia the ski resorts are still closed.