The Ski Resort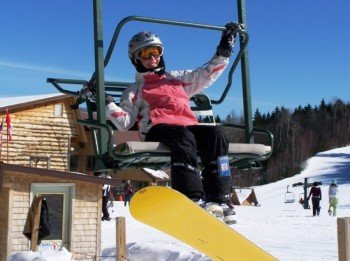 The Titus Experience!
In this modern era of mega-resorts and mega-prices, Titus Mountain Family Ski Center remains committed to welcoming all of our guests with a very special Snow Sports experience. Adirondack beauty! Affordable! Safe! Fun! That's what Titus Mountain is all about. Short lift lines. Uncrowded slopes. Good food. Magnificent grooming. Friendly staff. Low, low prices. This year, join us at Titus Mountain and discover a unique & timeless Adirondack way to savor winter!

Nestled in the northern Adirondack foothills, Titus Mountain is blessed with abundant natural snow & a sheltered, northeast-facing trail network. We operate a total of 10 lifts: Two 3-Passenger Chairlifts, Six 2-Passenger Chairlifts, One Tubing-Tow Surface Lift & our new Magic Carpet. These lifts service a total of 50 features, with something for every ability level . . . 35 trails, 11 glades, 3 terrain parks & 1 Snow Tubing park. We stretch across 3 mountains with over 200 acres open for skiing & snowboarding. Our 2025-ft. summit elevation provides folks with plenty of room to spread out. Our terrain ranges from green to double-black diamond and all levels of expertise will find something to enjoy! For 2014-2015, we have designated 8 trails & 1 glade as "Forever Wild" ungroomed areas where folks can discover skiing & snowboarding as Mother Nature intends it to be. We are open 7 days-a-week during the season (conditions permitting) & the Lower Mountain offers night skiing & snowboarding 'til 10pm on Thursday, Friday & Saturday evenings.

Convenience!
Lift lines are RARE at Titus! Our Upper & Lower Mountain lodges offer warmth, comfort, good food & refreshing beverages. Ticket sales, customer service, equipment rental & repair, the IBC Ski retail store and our full-service Learning Center are conveniently located at the base of the Lower Mountain. We have expanded our ability to process transactions for this coming season and added new rental equipment to speed the process of getting you out on the snow & having fun! Wireless internet access is also provided at no charge in our Lower Mountain base area. Fully staffed first aid stations are maintained on both the Upper & Lower Mountains. Ample parking is provided at the bases of both the Upper & Lower Mountains. The Upper Mountain trail network is conveniently connected to the Middle & Lower Mountain network via a ski-through highway tunnel, as well as a ski-over highway overpass. 70% of our terrain is serviced by snowmaking & we groom each 24 hours (weather-permitting) to ensure optimum conditions. We have embarked on a long-range project that will bring continuous improvement to both our grooming & snowmaking.

Getting Started!
Titus Mountain is committed to introducing new folks to the joys of skiing & snowboarding. Our Learning Center features an immaculately-groomed slope, state-of-the-art rental equipment & instructors who are friendly, patient & know how to teach. Our Learning Center lifts are designed with beginners & novices in mind, and our new Titus Teddy's Magic Carpet makes getting up the hill easier than you could ever imagine. Come to Titus and discover just how much fun winter can be!

Terrain Parks!
Ready for a different kind of downhill experience? Check-out Titus Mountain's Moon Valley Parks! Ride the rails! Hit the jumps! Lots of great features to explore! Our Little Tikes Park is ideal for the younger crowd just starting to ride. Our Ridge Park offers challenges for experienced riders. Our new Mo's Stash "Forever Wild" Park tests your skills in ungroomed conditions over all-natural features . . . crazy fun! Helmets recommended!

Snow Tubing!
One trip down our Snow Tubing Park & you'll be hooked! All you need are some warm clothes. We'll provide the tube & the smile on your face! Tubing is available weekends, holidays & Fri.-Sat. evenings. Group rates are offered, and large groups of 50 or more may reserve the Park for a one-of-a-kind private outing during off-hours. There is a warming station at the top for the comfort & convenience of both tubers & watchers! Food, beverages & rest facilities are conveniently located in our adjacent Lower Mountain lodge. You must be at least 42 inches tall to ride a Snow Tube. Treat yourself to a thrilling day of healthy exercise in the mountain air!

Sweetness!
When February & March arrive, it's time for our Moon Valley Maple sugarbush to start making delicious maple syrup from the sap that Titus Mountain's happy sugar maples send us. Be sure to checkout our sugarhouse (next to the Learning Center). You just can't beat fresh-cooked pancakes & waffles smothered with warm syrup from the evaporator!

A Little Bit of History.
Way back in the late 1940s, the John Johnson family here in Chasm Falls decided to make their long North Country winters a little more fun! They constructed a rope-tow up one of their hills, powered from the back wheel of a retired old Buick sedan. It wasn't long 'til their neighbors discovered the joy of sliding down a slope without having to climb back up it. A ski center had been born! Moon Valley opened to the public in 1960 and quickly became an important part of our local community, offering healthy recreation & a great solution to winter's doldrums. In 1980, Moon Valley was sold and became the property of Mr. Paul Augustine, who changed its name to Titus Mountain. Through the guidance and support of Mr. Augustine, we grew our trail network to the summits of our mountains, introduced modern snowmaking & grooming, added lifts & base facilities, improved our services, and always remained focused on Paul's goal of delivering unmatched value in a family-friendly setting. Mr. Augustine passed away in 2011 . . . leaving a fine legacy that will always be cherished. Later that same year, a new era began for Titus Mountain as ownership passed to the local Monette family of Malone, NY. It is exciting to see the mountain restored to local ownership & the Monettes have embarked on a broad program of improvements that continue to make the "Titus Experience" better each season. Come play on our mountains this year & share in the magic!

The most family-friendly ski resort in the Adirondack Mountains of New York State. We are a short drive from Ottawa, Cornwall & Kingston, Ontario, Montreal, Quebec, Plattsburgh & Watertown, New York, and northwestern Vermont. Our "easy in — easy out" parking lot makes coming and going a breeze, no matter where in the U.S. or Canada you are coming from. For a great New York ski resort, look no further than Titus!
 
Snow Safety & Snowmaking
Travel Deals & Tips
Advertisement