The Ski Resort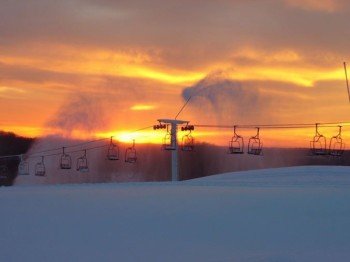 Sundown Mountain is a ski area not quite like the others. Sundown Mountain is the only ski area in the Midwest to receive the National Ski Areas Association´s Award of Excellence. From the top of the mountain you get scenic views of the vast area around. From here you have access to 21 trails mainly shaped for beginners and intermediates. However, there are also two most difficult trails available for those who are looking for some action. In addition, there are 2 terrain parks full of boxes, rails and jumps and even with a half pipe. One of them is designed for progressive skiers and riders whereas the other is for those who have just startet to explore the fun of a terrain park. A few hours on the trails and slopes will most likely quicken your appetite. The North Lodge and the South Lodge have a full service cafeteria along with live music and a fire place to warm yourself. Get cozy in front of the fire and enjoy a hot beverage before you return to the snow!
Interesting facts
During the season the average snow depth at Sundown Mountain is 19 ". Snow coverage is usually best during February, offering an average base depth of 21 ".
Sundown Mountain features 18 sunny days on average per season. The average for all ski Resorts in the USA is 14 sunny days. January is the sunniest month with an average of 10 sunny days.
Snow Safety & Snowmaking
Travel Deals & Tips
Advertisement