Interesting facts
Offering 2496 acres of slopes and terrain, Snowbird is among the 5 largest Ski Resorts in Utah.
Snowbird is among the 3 best rated Ski Resorts in Utah.
It is among the 5 most family-friendly ski Resorts in Utah.
Elevated between 7759 ft and 11001 ft, the Ski Resort is among the 3 highest elevated Ski Resorts in Utah. The vertical drop from summit to base is 3241 ft. The average difference in altitude between base and summit of Ski Resorts in the USA is 1184 ft. Most runs are therefore relatively long.
Season starts on Nov 23 and ends on Jul 2 (222 days). Average season duration in the USA is 118 days.
During the season (from Nov 23 till Jul 2) the average snow depth at Snowbird is 98 ". Snow coverage is usually best during April, offering an average base depth of 124 ". Therefore Snowbird is among the 5 ski Resorts with best snow conditions in Utah.
Snowbird features 116 sunny days on average per season. The average for all ski Resorts in the USA is 111 sunny days. June is the sunniest month with an average of 26 sunny days.
News
Snowbird is amongst the top ten ski resorts in the nation. It offers everything a winter enthusiast can desire and much more! It is located an enjoyable 45 minute drive away from Salt Lake City Airport. Hence, it is even easily accessible when you´re coming from far away. The scenic drive through the winter landscape will certainly quicken your appetite for snow and mountains und you won´t be diasappointed at your arrival! Unbelievable 1012 hectares of skiable terrain are waiting four you to be explored. Snowbird has the largest vertical rise in Utah. However, there is plenty of room for skiers and riders of all ability levels as such an magnitude implies a great variety of trails. Undoubtedly, Snowbird makes everyone happy from beginner to expert! Take a ride with the Aerial Tram and savour the fantastic view of the winter wonderland around before you hit the trails. Snowbird Terrain Park will make any freestyler´s heart beat faster. There are multiple great features on which you can practice and show off your tricks. The Mountain School´s programs are not limited to beginner lessons. Quite the contrary, it attempts at offering programs for multiple needs. Hence, you will find a variety of programs for children and adults, women, beginner, intermediates and even experts since there is always more to learn! Discover the Wasatch backcountry with a guide or go Heli-skiing! Snowbird also puts much effort into enabling individuals with any kind of disability to participate in winter sports. They interact directly with doctors and therapists to create the best winter experience possible. Yet, the fun doesn´t end with skiing and snowboarding. Go on a mountain tour, try snowshoeing or take a snowmobiling tour and explore the vast area around. Don´t forget to pamper yourself a little bit and pay a visit to The Cliff Spa at Snowbird. Leave the world behind and get some relaxation, balance and vitality. Relax your muscles and regain some strength for another mountain adventure the next day!



The Ski Resort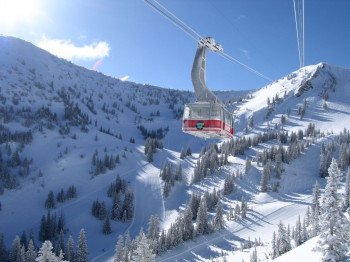 Snowbird is just a 29 mile ride away from Salt Lake City. Getting an average 500 inches of famous Utah powder snow, the area provides you with 2500 ski-able acres. Hit the 169 runs and enjoy the ride. While the lowest chairlift can be found at 7760 feet, the resort's highest point is 11,000 feet.
Start your skiing adventure from Snowbird Center. Take Peruvian Express High-Speed Quad to get to the area of Peruvian Gulch. Up here, 10,518 feet above sea level, you can hit a ton of black runs. Those blacks have fancy names like 'High Baldy Traverse', 'Fields of Glory' or 'Thanks for the Memo-ries'. Tree skiing fans will be pleased with the splendid choices they have here and experts will love that they can even ski down and descend right into the valley on designated black runs. Here and there you'll come along blue runs like 'Rotham Way' or 'Chip's Run' but the majority of the serviced trails here is perfect for expert skiing.
Aerial Tram will also whisk you up the mountain in a wink of the eye. It also features mostly black runs and glades. Around Hidden Peak at 11,000 feet you'll have several serious glades to your disposal. Head left when you leave the lift to find some green runs by skiing down.

For example 'Bass Highway' and 'Miner's Road' are the perfect trails for be-ginners to find their way into the world of riding and skiing. Those runs are ser-viced by the 'Wildere Lift'. All the easy runs are further down the mountain and real easy to get to.

The 'Mid Gad Lift' brings you up to Mid Gad from Creekside base. It boasts mostly green runs that are very doable for novice and further down you can hit one or the other intermediate trail. Those also carry pretty special names like 'Lowest Bassackwards' or 'Madam Annes'. Gazdom High-Speed Quad ser-vices runs for every ability, so you can go there with your whole family.

'Gad2Lift' is another expert only lift where beginners should really steer clear. Here, you can really only come back to the base by hitting a ton of different blacks. 'Baby Thunder Lift' on the other side brings you also to two blacks but is also a good ride for beginners since they can ski a lot of greens from the top.
One terrain park covers all the needs of Freestylers. The Snowbird Terrain Park is accessible via the Mid Gad or Gadzoom lifts. You'll find it on the lower part of the Big Emma run.
On Mountain Dining
Two dining establishments are located on mountain. Creekside Café and grill located at the foot of Gad Valley provides you with everything you´ll need for breakfast and lunch, as well as with delicious snacks and drinks during lift hours.
Mid-Gad restaurant, you guessed it, is located in the middle of Gad Valley eas-ily accessible either by ski or lift. Their diverse menu leaves no wishes unful-filled ranging from salads and sandwiches over to pizza and burgers.
Must-Ski Runs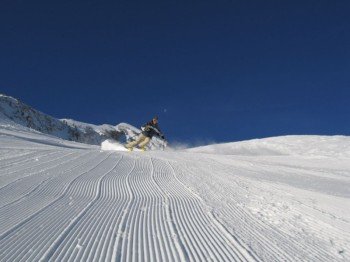 The longest run is 'Chip's Run' which comes with a length of 2,5 miles and the longest descend is 3,5 miles and is called 'Gad Valley'.
Video
Snowbird, Utah, January, 2012 -... | 01:30
Activities
If you're not into skiing but don't want to miss out on scenic panorama views, buy a single ticket for the Scenic Aerial Tram. It brings you up to the 11,000 feet high Hidden Peak. From here you can see snow covered slopes, Alta and even Salt Lake Valley.

Snowshoes are a great way to change up the classic hiking. Wasatch moun-tain gives you all the beautiful nature that you would expect from an Utah va-cation. Guided tours are available and bring tons of fun.
You can also book a guided backcountry ski experience which is a Snowcat tour through Sinner's Pass, Pagan Basin, Borussia in Mineral Basin, Miller Hill and Mary Ellen Gulch. Snowmobiling is also a great amusement for your spare time. Starting point here is Hidden Peak. From here you get to enjoy an scenic 20 minute ride.

If you prefer to avoid the adventure after a long day on the slopes, visit 'The Cliff Spa' for yoga and fitness classes. You can also just relax in the rooftop hot tub, the heated pools or the famous eucalyptus steam room. If you want to come home with a serious tan, use the solarium relaxation area. Either way, everyone leaving the spa will feel much better and ready for the next day in the mountains.
Après-Ski and Nightlife
The Tram Club is perfect for those who want to go out and party but still want to catch up on their favorite's team game. It's located at Snowbird Center on Level 1. All the restaurants have drink specials and extended wine lists so you can relax with your friends in front of the fireplaces and enjoy the night.
Dining and Restaurants
Foodies appreciate the wide choice of restaurants that are known for fine din-ing. The Aerie has American gastropub-cuisine on the menu by only using lo-cal and seasonal ingredients. Another highlight is the Snowbird's flagship res-taurant that offers guests award-winning wines and a breathtaking panorama. If you want to enjoy this special experience, definitely reserve a table before-hand.
Getting here
Departing to Salt Lake International Airport is the best way to get here. The Canyon Transportation Shuttle will bring you into the resort if you reserve it a day or two before you're arriving.
Rental cars are available as well and since the way is fairly easy, this is a great choice as well. Coming from Salt Lake City you just have to take I-80 and afterwards change onto I-215. Leave at Exit 6 and head towards 6200 South. Follow it, enjoy the scenery and you're in the resort.
Free parking is available.