Interesting facts
Season starts on Dec 23 and ends on Apr 16 (114 days). Average season duration in the USA is 117 days.
During the season (from Dec 23 till Apr 16) the average snow depth at Ski Sundown is 21 ". Snow coverage is usually best during February, offering an average base depth of 30 ".
Ski Sundown features 60 sunny days on average per season. The average for all ski Resorts in the USA is 51 sunny days. March is the sunniest month with an average of 19 sunny days.
The Ski Resort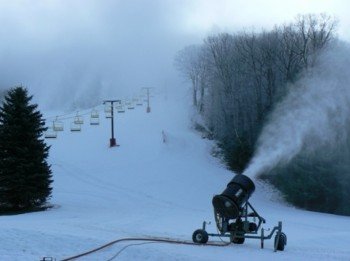 Ski Sundown is a lovely Connecticut ski area and easily accessible from cities such as New Haven, Bridgeport and Danbury. Snowboarders are welcome here. In fact, it was one of the first ski areas that allowed snowboarders in 1984. There are 15 trails for all ability levels and the entire terrain of 26 hectares has snowmaking coverage. Freestylers can choose from two terrain parks, Stinger and Sensation. It is the ideal ski area for families. The Ski School offers a great variety of programs for children and adults. There are weekday, weekend and vacation programs, each designed for a certain ability level. No matter which one you choose you will always get the best instruction possible by experienced staff. Groups shouldn´t miss to check the weekly group specials. You can get all equipment needed at the rental shop. You want your own stuff? Pay a visit to the Snow Sports Shop where you will find the latest ski and snowboard stuff! Take a break and relax at one of the four dining facilities on the mountain. The sundown bbq is especially recommendable. Sit outside on the Mountain View Deck and enjoy the great view of the mountains around while you enjoy a burger or a grilled chicken.