The Ski Resort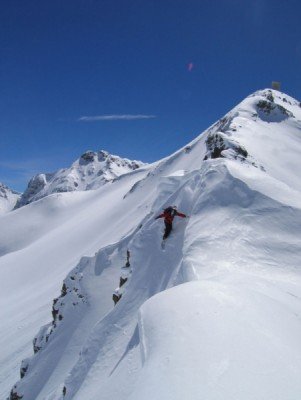 At Silverton Mountain a unique mountain experience is awaiting you! With an elevation of over 4,100 meters Silverton Mountain is the highest skiable mountain in North America. At the same time it is also the steepest which means that there is no easy way down. The entire area is exclusively for expert skiers and riders. Discover cliffs, chutes and glades! The entire mountain is left in its state of nature except for the avalanche reduction work. There is a chair lift available that will take you right into this powderhead´s paradise. However, you also have the opportunity to go heli skiing which will give you a memory for a lifetime. You can choose between unguided and guided skiing. Guided skiing gives you the opportunity to ski with a pro that can also take you beyond the usual boundaries for unguided skiing. Whatsoever, you will definitely spend an unforgettable day on the mountain!
Interesting facts
Elevated between 10400 ft and 13488 ft, the Ski Resort is the highest elevated Ski Resorts in the USA. The vertical drop from summit to base is 3087 ft. The average difference in altitude between base and summit of Ski Resorts in the USA is 1204 ft. Most runs are therefore relatively long.
The day pass at Silverton Mountain is $99 making it one of the 10 cheapest ski Resorts in Colorado.
During the season the average snow depth at Silverton Mountain is 41 ". Snow coverage is usually best during February, offering an average base depth of 54 ". Therefore Silverton Mountain is among the 5 ski Resorts with best snow conditions in the USA.
Silverton Mountain features 21 sunny days on average per season. The average for all ski Resorts in the USA is 18 sunny days. December is the sunniest month with an average of 11 sunny days.
Snow Safety & Snowmaking
Travel Deals & Tips
Advertisement
Videos
Silverton Mountain - Unguided Pass
"Line of Descent" Full Segment: Silverton, CO
Silverton Mountain Heli-skiing
SILVERTON COLORADO BACKCOUNTRY SNOWBOARDING
Getting here