Interesting facts
Season starts on Dec 17 and ends on Mar 26 (99 days). Average season duration in the USA is 111 days.
Average snow depth during the season (Dec 17 to Mar 26) is 30 " at summit elevation and 21 " at base elevation. Snow coverage is usually best during March, offering an average snow depth of 33 " at summit elevation and 24 " at the base. Therefore Shawnee Peak is among the 5 ski Resorts with best snow conditions in Maine.
The Ski Resort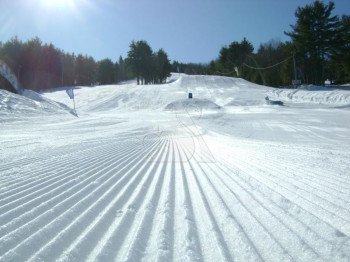 Shawnee Peak is located in south east Maine and easy accessible from cities such as Portland and Boston. The ski area offers everything a snow enthusiast´s heart can desire. There are 96 hectares of skiable terrain with 44 trails that will please beginners and experts alike. 19 trails are also open for Night skiing so the fun can continue after sunset! In addition, there are 2 Terrain Parks with one Half Pipe ready to be conquered by freestylers and wannabes. They are full of great fetaures that are constantly changed so you´ll always find a new challenge when you visit Shawnee Peak. The Snowsports School has 125 instructors that are looking forward to introducing old and young to their favorite sport. Lessons are taught day and night! Whether you want to learn to ski or ride or if you just want to refine your already existing skills you will definitely find a program that matches your needs. In addition, there is a daycare available for the little ones. Know your child in good hands while you enjoy the great trails and slopes of Shawnee Peak!
Snow Safety & Snowmaking
Average snow depth of the last years (Summit)
(in ")