The Ski Resort
Winter sports enthusiasts will find over 110 kilometres of groomed slopes for beginners and intermediates against the mountain backdrop of the Sexten Dolomites. The best way to explore the resort is on the 34 kilometre (21 miles) long Giro delle Cime circuit with a vertical drop of more than 15,000 feet.
You can enter the ski resort in various places. The northernmost point are Vierschach and Helm. Short, blue slopes close to the base are perfect for everyone who is just starting out. Later you can go up the mountain on a gondola. While Mittelstation and Übungslift get you to shorter runs on Helm, skiers can also start the longer, intermediate valley run (no. 13). From the gondola's top station, Hasenköpfl lift gets you even higher, to where the reds begin. Helm can also be accessed from Sexten via Sexten-Helm cableway.
Stiergarten is what connects Helm and Rotwand. With two gondolas it services two long, red runs with a unique mountain panorama. You can get to Rotwand over Signaue, or from Moos. Experts may look forward to one of the steepest slopes in Italy, Holzriese (no. 3a/b), with a 71% gradient. Kids are fascinated with the herd of reindeer living on the mountain, as well as the Rudi-Rentier trail (no. 10a) teaching them 10 FIS rules in a playful manner.
Rotwand joins Kreuzberg pass in the south. Both lifts can be accessed via UNESCO ski trail (no. I), idylically leading through the natural world heritage. If you want to go further into Areal Val Comelico, you have to take the bus. The southernmost part of the resort features six runs for all skill levels around Col d'la Tenda chair lift. The longest run, Campo (no. 50), goes all the way back to the base.
Besides the slopes of Helm, Rotwand, and co. skiers can also explore Haunold in Innichen, Waldheim, Toblach/Rienz, and Prags ski resorts, thanks to a joint ski pass at the Sexten Dolomites. If you still can't get enough, you can get the Dolomiti Superski pass. Ski Pustertal Express is a comfortable way to get to the neighbouring Kronplatz ski resort with more than 100 kilometres (62 miles) of additional slopes.
Interesting facts
Offering 71 miles of slopes and terrain, 3 Zinnen Dolomites is among the 15 largest Ski Resorts in Italy.
3 Zinnen Dolomites is among the 5 best rated Ski Resorts in Italy.
It is among the 5 most family-friendly ski Resorts in Italy.
The vertical drop from summit to base is 3835 ft. The average difference in altitude between base and summit of Ski Resorts in Italy is 2717 ft. Most runs are therefore relatively long. The highest point of the track is 7546 ft above sea level.
Average snow depth during the season is 46 " at summit elevation and 18 " at base elevation. Snow coverage is usually best during February, offering an average snow depth of 51 " at summit elevation and 21 " at the base.
3 Zinnen Dolomites features 70 sunny days on average per season. The average for all ski Resorts in Italy is 63 sunny days. February is the sunniest month with an average of 20 sunny days.
Snow Safety & Snowmaking
Snow Making Machines:
395
Average snow depth of the last years (Summit)
(in ")
Travel Deals & Tips
Advertisement
On Mountain Dining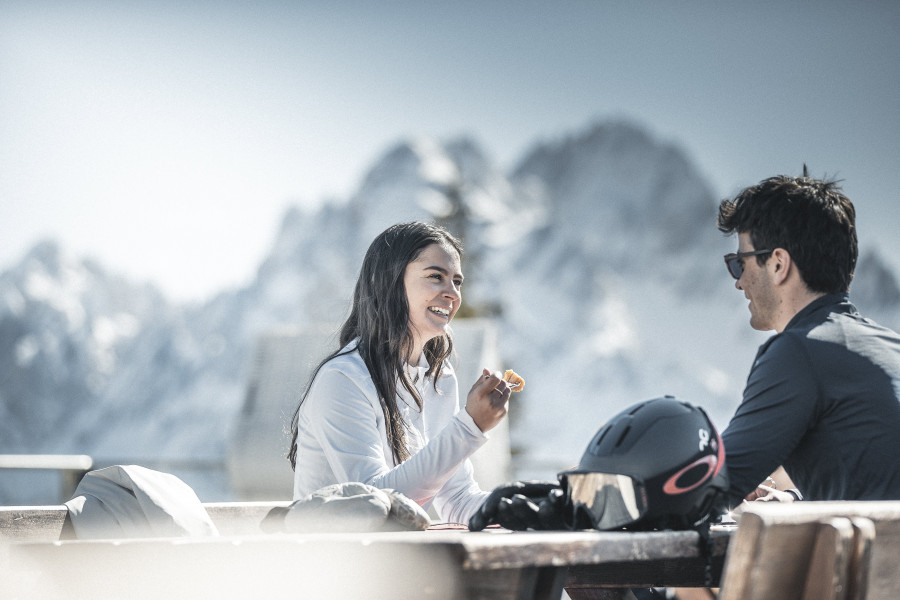 In Vierschach, the Punka service centre is a great place for food and drink. With a cafeteria, restaurant and pizzeria, it's a good stop for both a meal or a quick snack. Alternatively, on Helm mountain, you can soak up impressive panoramic views over a lunch in the Helm restaurant. The restaurant offers self-service options as well as à la carte. One of the most authentic and cosy lodges in the ski area is located on the Signaue: Henn Stoll. On the Rotwand, guests of the Rotwandwiesenhütte can take in views of the Drei Zinnen in a cosy and laid-back atmosphere, while Rudihütte offers the opportunity to try various Tyrolean specialities. If you're after Italian cuisine, look no further than the Col d'la Tenda in Val Comelico.
Must-Ski Runs
Experts shouldn't pass up the opportunity to try their hand at the Holzriese run, with a gradient of over 70%. The Stiergarten and Drei-Zinnen runs are great for carving and offer breath-taking views over the Sexten Dolomites.
Videos
Skiing on 5 connected mountains - 3 Zinnen Dolomites
Ski Pustertal Express - from 3 Zinnen to Kronplatz and return
Free Fall Ride - Three Peaks Dolomites, South Tyrol
Giro delle Cime - FULL VERSION - 3 Zinnen Dolomites
Activities
Two toboggan runs also provide white-knuckle action away from your skis. A winter hike through the valley is a somewhat quieter way to enjoy this breathtaking landscape. Routes through Höhlenstein Valley and Fischleintal Valley are particularly popular with visitors. If you prefer to pull on some skates, there are ice rinks in Sexten, Toblach and Niederdorf. Thanks to the indoor climbing walls in Sexten and Toblach as well as the Acquafun leisure centre in Innichen, there is even plenty to do here when the weather is bad.
Après-Ski and Nightlife
The first port of call for après-ski is the bar at Punka service centre. Party-goers can dance late into the night to the grooves of DJs and live bands here. Igloo Bar in Sexten is also a great spot for a few drinks and a boogie, as is Pub Lindwurm in Innichen. The latter features a choice of 13 different beers to try.
Number of Bars and Pubs:
70
Dining and Restaurants
Number of Restaurants:
90
Infrastructure & Rental
Skischools
Number of Snowboard Schools:
8
Getting here
By car: If you drive into Hochpustertal from Italy, take the Brennerautobahn (A22) until the Brixen/Vahrn exit. From there, it is another 60 kilometres to Hochpustertal. Alternatively, if you are travelling from Austria, first head for Lienz in Osttirol before driving onto the B100, which leads into Hochpustertal via Sillian. Rail travellers should first make for Franzensfeste, where international trains also stop.
By train: Local trains then continue on to Innichen. This train also stops in Niederdorf, Toblach and Vierschach / Helm. In addition, trains also depart from Lienz towards Innichen.
By plane: Bolzano airport is around 100 kilometres away. It is also possible to fly to Innsbruck (130 km away) or Treviso (170 km away).