Interesting facts
The vertical drop from summit to base is 591 ft. The average difference in altitude between base and summit of Ski Resorts in Austria is 2356 ft. Runs and slopes are therefore relatively short. The ski resort takes you to an elevation of 3346 ft.
Season starts on Dec 22 and ends on Mar 24 (92 days). Average season duration in Austria is 112 days.
Average snow depth during the season (Dec 22 to Mar 24) is 20 " at summit elevation and 20 " at base elevation. Snow coverage is usually best during January, offering an average snow depth of 20 " at summit elevation and 20 " at the base.
Schmoll Lifte features 30 sunny days on average per season. The average for all ski Resorts in Austria is 41 sunny days. February is the sunniest month with an average of 16 sunny days.
The Ski Resort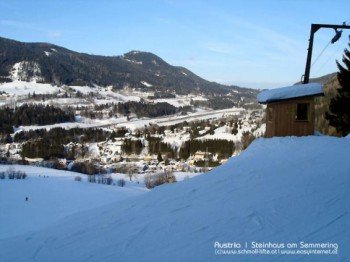 At the Schmoll-Lifts, winter athletes can expect two lifts and wide, sunny slopes, snow-making systems and freshly groomed slopes every day. There is also a toboggan run, the Schmolltroll-Kinder-Funpark, a jump for boarders, a mogul slope and a deep snow slope. Even skidoo rides are offered. Directly at the lift you have also access to the large cross-country ski trail. Parking spaces for cars and buses are available here, too. There is also a ski school and guest houses in the immediate vicinity.
Who is looking for more downhill possibilities will find the ski area Stuhleck in Spital am Semmering about 5 kilometres away.
Snow Safety & Snowmaking
Average snow depth of the last years (Summit)
(in ")
Video
Schmoll-Lifte Semmering 24.1.2016 | 01:26
Getting here
The Schmoll Lifts in Steinhaus am Semmering are located about 100 kilometers south of Vienna.