The Ski Resort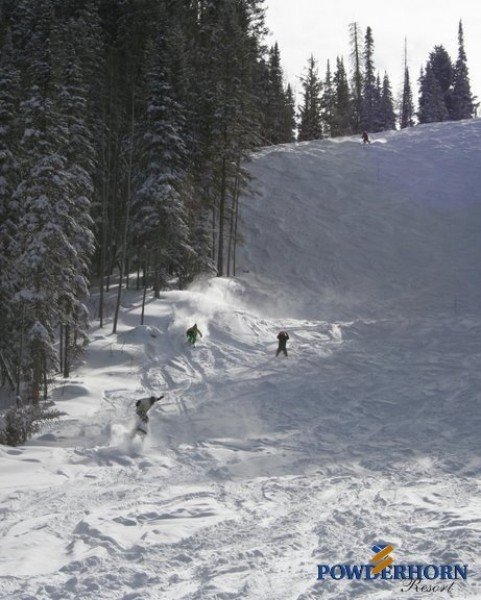 Powderhorn Resort is a great ski resort in the west of Colorado. Offering 242 hectares of skiable terrain the resort offers a great choice for skiers and rider of all ability levels. Everyone will find trails and slopes that match their needs. Powderhorn Resort has everything from gentle beginner runs to wide cruisers to challenging expert terrain. Freestylers can choose from 3 Terrain Park.
From January on you will find new features here every week as the staff at Powderhorn Resort is always eager to present you something new and to give you new challenges. If you feel the need for some instruction the Ski and Ride School will be happy to help you. There is a variety of lessons available for both children and adults. In addition, there are adaptive lessons for disabled individuals. Don´t forget to check the School´s specials such as the Learn to Ride Series that addresses first time skiers and riders. Attend all 3 lessons and you´ll get a seasons pass for free!
Hungry from an exiting day on the slopes? There are 4 dining facilities where you can get a hot meal and rest for a while to gain new strength. In addition, there are two massage therapists available by appointment at Powderhorn Resort. Get a massage and make your holiday a perfect one!
Interesting facts
The vertical drop from summit to base is 1650 ft. The average difference in altitude between base and summit of Ski Resorts in the USA is 1227 ft. Most runs are therefore relatively long. The high point of the ski resort is located at an elevation of 9849 ft.
The day pass at Powderhorn Resort is $99 making it one of the 10 cheapest ski Resorts in Colorado.
Snow coverage is usually best during February, offering an average base depth of 57 ".
Snow Safety & Snowmaking
Travel Deals & Tips
Advertisement
Videos
Powderhorn's Ski & Ride Center
Powderhorn's 50th Anniversary Teaser
What to Expect at Powderhorn Mountain Resort for the 2020/21 Season