The Ski Resort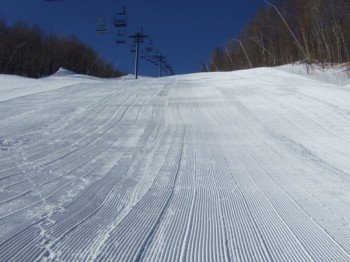 At Plattekill Mountain you will find a big mountain terrain combined with the atmosphere of a small family-oriented ski area. You definitely won´t get bored here as long lift lines are unknown and every trail offers something new. There are 36 trails in total giving everyone a choice no matter if you just have started skiing or if you are a seasoned expert. Staff at Plattekill Mountain puts much effort into snowmaking. This combined with its huge terrain and limited crowds caters for best snowconditions all day long! In addition, there is a brand new Terrain Park for freestylers and those who want to become one. The Ski School welcomes skiers and snowboarders of all ages and ability levels. It offers a wide variety of programs. From programs especially tailored for the needs of children such as the "Snowkidding" Children´s program to the "Return to the Snow" Program for skiers and riders who haven´t been in the snow for a while, you will find everything. Certainly, there is a program that matches what you are looking for. Families shouldn´t miss a visit at the snowtubing park. It´s just like sledding but with even more fun and without the hike up the hill afterwards. At Plattekill Mountain a lift will conveniently bring you back uphill for your next fun ride on the tube!
Interesting facts
Elevated between 2402 ft and 3501 ft, the Ski Resort is among the 3 highest elevated Ski Resorts in New York. The vertical drop from summit to base is 1099 ft. The average difference in altitude between base and summit of Ski Resorts in the USA is 1204 ft.
The ski resort is among the 10 ski Resorts with best conditions in New York.
Plattekill Mountain features 51 sunny days on average per season. The average for all ski Resorts in the USA is 50 sunny days. February is the sunniest month with an average of 17 sunny days.
Snow Safety & Snowmaking
Travel Deals & Tips
Advertisement