The Ski Resort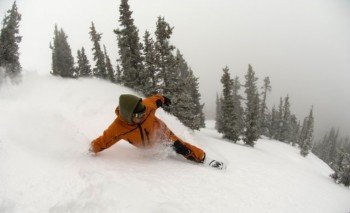 Monarch Mountain is a great ski area located in south central Colorado. In 1939 it officially started as a ski area. However, people have been skiing here for much longer. With a skiable terrain of 324 hectares and 63 trails Monarch Mountain offers great variety. This ski area will please beginners and seasoned experts alike. Monarch Mountain has everything from gentle beginner runs to steep challenging terrain!
The Monarch Ski and Ride School offers as much variety as the mountain: You can choose from multiple programs, each designed for different needs. You will definitely find one that matches your ability level. Monarch Ski and Ride School even guarantees first timers that they are able to ride the beginner chairlift after a 3.5 hour group clinic. If not the next lesson is on the Ski and Ride School.
Monarch Mountain is a family oriented ski area. As such it is proud to offer childcare to families. It is open to all children ages 3 to 6. Your children are supervised by specially trained staff. So know your child is having a fun time and is well taken care of while you enjoy a great day on the trails and slopes!
More adventurous types may be interestes in taking a snowcat tour. It is widely considered the best snowcat skiing in Colorado. So get your ski or snowboard and discover glades and stashes, bowls and cliffs and extremely steep runs! If you love to do some tricks you can choose from 3 Terrain Parks. They are stuffed with various features for all ability levels.
Interesting facts
Elevated between 10787 ft and 11952 ft, the Ski Resort is among the 15 highest elevated Ski Resorts in the USA. The vertical drop from summit to base is 1161 ft. The average difference in altitude between base and summit of Ski Resorts in the USA is 1204 ft.
During the season the average snow depth at Monarch Mountain is 70 ". Snow coverage is usually best during March, offering an average base depth of 70 ".
Monarch Mountain features 61 sunny days on average per season. The average for all ski Resorts in the USA is 50 sunny days. February is the sunniest month with an average of 15 sunny days. This makes the ski resort one of the 5 sunniest in Colorado.
Snow Safety & Snowmaking
Travel Deals & Tips
Advertisement
Video
Families Rule at Monarch Mountain!