The Ski Resort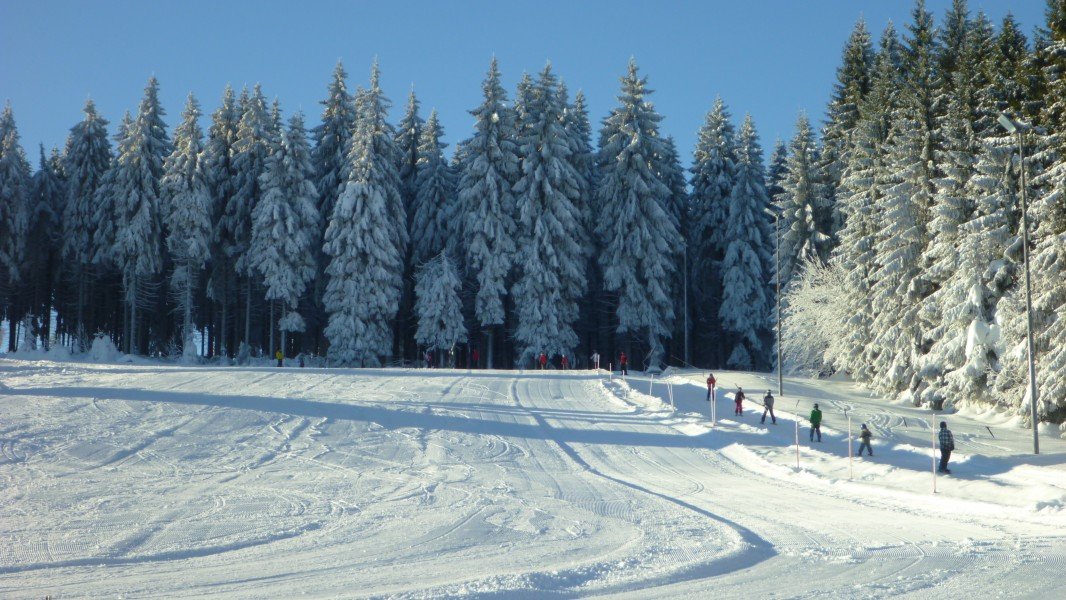 Mühlleithen is part of the winter sports area Klingenthal. Klingenthal became popular by nordic ski fans for its good snow conditions. The city and the famous modern Vogtlandarena are scene of many international competitions in ski-jumping and nordic-combined. If you want action for yourelf, you can try the almost 110 kilometres of cross-country ski runs or the alpin runs.
Mühlleithen is one of the most popular runs of this region. Even kids can easily learn how to ski right here. There are floodlight and snow guns, so you can calculate with best conditions.
Interesting facts
It is among the 10 most family-friendly ski Resorts in Saxony.
Elevated between 2766 ft and 2887 ft, the Ski Resort is among the 3 highest elevated Ski Resorts in Saxony. The vertical drop from summit to base is 121 ft. The average difference in altitude between base and summit of Ski Resorts in Germany is 705 ft. Runs and slopes are therefore relatively short.
The day pass at Klingenthal Mühlleiten is €12 making it one of the 10 cheapest ski Resorts in Saxony.
Snow coverage is usually best during January, offering an average snow depth of 11 " at summit elevation and 7 " at the base. Therefore Klingenthal Mühlleiten is among the 10 ski Resorts with best snow conditions in Saxony.
Klingenthal Mühlleiten features 14 sunny days on average per season. The average for all ski Resorts in Germany is 16 sunny days. February is the sunniest month with an average of 8 sunny days.
Snow Safety & Snowmaking
Snowphone
+49 (0)37467 22494
Average snow depth of the last years (Summit)
(in ")
Travel Deals & Tips
Advertisement
Video
05/15 9.Vogtland Spiele werfen Schatten voraus