The Ski Resort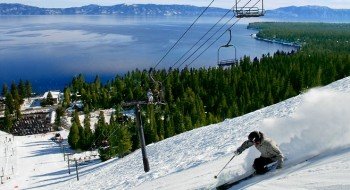 Homewood Mountain Resort is located at the west shore of Lake Tahoe. From there it rises to a stunning elevation of 2400 meters at the summit. Homewood is widely known for its breathtaking views of Lake Tahoe. Even seasoned skiers and snowboarders stop to savor this exceptional sight. Yet, the slopes and trails at Homewood are at least as exceptional as the view. Homewood Mountain Resort offers over 500 hectares of skiable terrain. It is varied and ranges from groomed boulevards to hidden powder stashes. Thus, everyone will find their perfect run amongst the 60 trails Homewood has to offer.
At Homewood you don´t have to worry about the weather. It has an average snowfall of 11 meters per season and 300 days of sunshine! All trails are open for snowboarders. In addition, there are two Terrain Parks available that will give everyone a blast no matter if beginner or future professional.
The Ski & Snowboard School offers a variety of different programs for everyone who is eager to learn to ski or ride no matter of which age or ability level. You can choose from private and group lessons. Whatsoever, you will always be attended by a specially trained instructors who will do everything to make your learning experience a pleasant and memorable one.
Interesting facts
The vertical drop from summit to base is 1650 ft. The average difference in altitude between base and summit of Ski Resorts in the USA is 1204 ft. Most runs are therefore relatively long. The ski resort takes you to an elevation of 7881 ft.
The day pass at Homewood is $45 making it one of the 10 cheapest ski Resorts in California.
Average snow depth during the season is 128 " at summit elevation and 66 " at base elevation. Snow coverage is usually best during March, offering an average snow depth of 165 " at summit elevation and 79 " at the base.
Homewood features 14 sunny days on average per season. The average for all ski Resorts in the USA is 10 sunny days. January is the sunniest month with an average of 7 sunny days. This makes the ski resort one of the 15 sunniest in the USA.
Snow Safety & Snowmaking
Average snow depth of the last years (Summit)
(in ")
Travel Deals & Tips
Advertisement
Must-Ski Runs
Longest Runs
Rainbow Ridge - Homeward Bound