The Ski Resort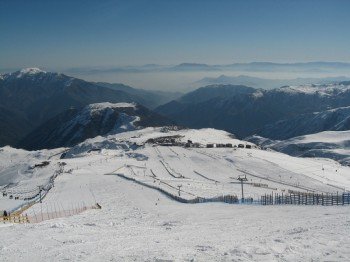 As being part of the Tres Valles of ski resorts close to Santiago - along with La Parva and Valle Nevado, El Colorado is considered a locals' ski resort. In fact, El Colorado comprises two ski areas, namely El Colorado and Farellones, both situated above two interconnected villages (Villa Colorado and Villa Farellones). Combined, the two ski areas make up an extensive treeless ski resort.
A great number of runs is well suited to beginners with Farellones being only for beginners and tubing enthusiasts. Due to its gentle slopes and snow tubing, the ski resort is popular with beginners and families. Featuring a ski area of 1,100 acres, El Colorado/Farellones offers 112 slopes served by 18 ski lifts. 51% of the skiable terrain is designated green, 28% are designated blue runs, 8% are suited to advanced skiers and riders, and 13% are for expert skiing.
Moreover, the resort offers a store, three restaurants, a pub and a ski rental service. The ski school is considered to be international with qualified instructors from diverse countries. Lodging here includes hotels, apartments and houses or even hostel style backpackers, which are reasonably priced and definitely less expensive thus providing better value for money than other ski resorts nearby.
Travel Deals & Tips
Advertisement
Snow Safety & Snowmaking
Snowphone
+56 / 02 / 3557722
Average snow depth of the last years (Summit)
(in ")
Videos
El Colorado - La Capital de la Nieve - Temporada 2019
El Colorado - Feliz temporada 2019
El Colorado - 70 Años Aniversario