The Ski Resort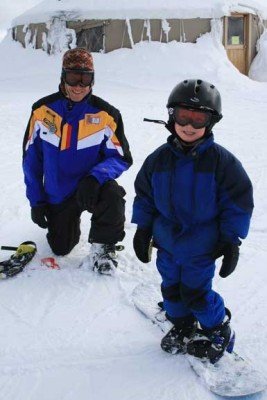 Brundage Mountain Resort is a great resort that any snow lover will enjoy. It is pure winter sport fun for beginners as much as for experts. There are over 607 hectares of perfectly groomed trails plus uncountable hectares of ungroomed powder fields. Explore steeps and glades with no one else around except for your friends and yourself!
Yet, Brundage also has a lot to offer for beginners. There are easy slopes available that won´t ask too much from you. Besides you can take some lessons at the ski school. Join a group lessons or take a private lesson to have all the instructor´s attention. There are several different programs to choose from. A very special one is the Ride with a Pro program. Professionals will help intermediate and expert skiers to explore their full potential. There are also special programs for women available. Furthermore, there is also an adaptive program that will help individuals with all kinds of disabilities to enjoy winter sports.
A specialty of Brundage are its Snow Cat Tours. Explore backcountry of the Payette National Forest! Guides will show you the beauty of this powdry wonderland and make sure that you get home safe and sound. Undoubtedly, this trip will be an unforgettable one.
 
Interesting facts
Offering 1920 acres of slopes and terrain, Brundage Mountain Resort is among the 3 largest Ski Resorts in Idaho.
Brundage Mountain Resort is among the 3 best rated Ski Resorts in Idaho.
The vertical drop from summit to base is 1801 ft. The average difference in altitude between base and summit of Ski Resorts in the USA is 1204 ft. Most runs are therefore relatively long. The high point of the ski resort is located at an elevation of 7638 ft.
Average snow depth during the season is 108 " at summit elevation and 63 " at base elevation. Snow coverage is usually best during March, offering an average snow depth of 112 " at summit elevation and 65 " at the base.
Brundage Mountain Resort features 44 sunny days on average per season. The average for all ski Resorts in the USA is 58 sunny days. January is the sunniest month with an average of 16 sunny days.
Snow Safety & Snowmaking
Average snow depth of the last years (Summit)
(in ")