The Mountain Lodge
Beds: 10
Double Rooms: 4
Shared Rooms: 5
Parking Area with direct access
Ski Storage
Internet
WiFi
Spa
Saunas: 0
Pools (inside): 0
Pools (outdoors): 0
Sun Deck
Spa Area
Notes:
Steam room in addition to spa
Videos
Séjour au Chalet Bonnepierre à... | 00:59
Survol de BonnepierreSurvol des Chalets de l'Altiport et de Bonnepierre à...
Snow by Charlie BeatwinUne petite vidéo des vacances de Noël 2013-2014 à...
Spa & Wellness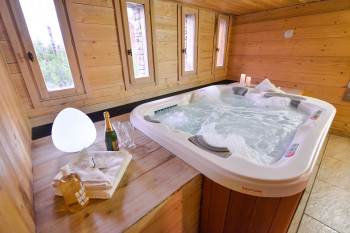 In addition to its nice indoor hot-tub and walk-in shower, Chalet Bonnepierre now has a new steam room
The Californian spa: more than a simple spa, this luxurious hot tub provides head-to-toe therapy. The dynamic massage system pampers the body with a fully customised massage. A wonderful experience after a hard day at ski!
The steam room: its soothing and muscle-relaxing properties have always been valued. This is particularly true in a place like l'Alpe d'Huez, where the air tends to be extremely dry.
Kids & Families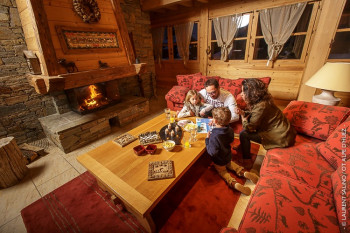 Chalet Bonnepierre welcomes families with kids of all ages. We can provide you with cots and high chairs for the youngest. Teenagers will enjoy our large bedroom-loft under the roof with 4 single beds.
"Le Chalet des Enfants" run by Ecole du Ski Français (ESF) is only 5mn away from Chalet Bonnepierre. This beautiful Children's Chalet will become their home for the week. From the age of 2 and a half years you rest assured your little one (s) will take their first steps on snow and enter the magical world of mountain life.
Notes:
Child care available upon request (please book well in advance)