The Hotel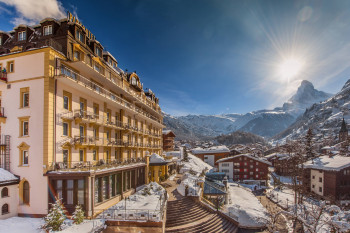 Welcome to The BEAUSiTE Zermatt
The BEAUSiTE is an adventurous design hotel, where alpine spirits take a break overlooking the Matterhorn, just above the hustle and bustle of Zermatt. Its journey began in 1907 and it has recently reached new heights by launching a refreshed hotel concept inspired by the British pioneers of alpinism's Golden Age with a contemporary twist. Guests can look forward to unwinding in their choice of 67 rooms and suites, or in the Spa & Recharge Zone's new outdoor infinity pool with a Matterhorn view, Vitarium, hammam and three saunas. Culinary HiGHLiGHTS are also within easy reach thanks to the hotel's two restaurants, fondue chalet, bar and vinotheke. This is a mountain escape where Swiss alpine traditions, regional culinary products, spa culture, all-new customised vibrant interiors, and British flair blend to create an experience that can only be described as HIGH SPiRiTED. Will you be climbing the Matterhorn or simply climbing into bed?
Rooms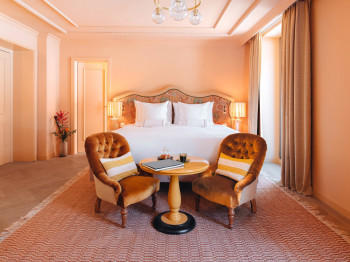 Not only is your alpine escape comfortable, but there are 67 rooms and suites to choose from (and most have Matterhorn views). What's more, you'll have all-new interiors, featuring a contemporary reinterpretation of the pioneering days of the British alpinists. But your room is not without challenges. The greatest challenge? Getting out of bed.
All rooms with their own shower
Restaurant & Fine Dining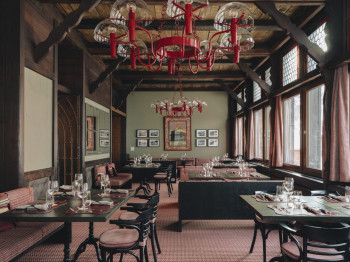 Every alpine spirit deserves a hearty regional meal. And thanks to our own cows and pigs, and the local farm yoghurt, cheese and meats, you'll have everything you need to refuel right here. Your tastebuds will also have their own journey, with traditional and innovative options across our bars and restaurants. Let the culinary exploration begin!
The Grill
Our regional and seasonable philosophy is best expressed at our signature restaurant where meat, fish and vegetables are prepared on a traditional wood fire grill and presented with an original twist. The only thing you'll need to pack for this adventure is your appetite!
Spa & Wellness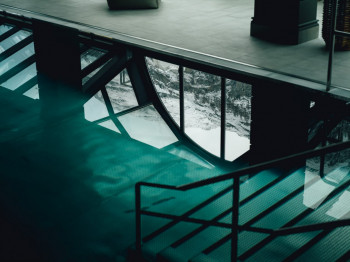 Our Spa & Recharge Zone guides alpine spirits through a mountain cave area and winter garden zone and into a mind and body space where they feel re-energised and ready for their next adventure. By uniting the Swiss alpine spa traditions with a British touch in a contemporary way, you'll have all you need to send your energy levels sky high.

Whether you've just arrived from your trip to get to us or you've spent a day in the mountains, unwinding in one of our pools is the ideal way to recharge. Our warm indoor pool and whirlpools will help restore your energy - and if you're feeling adventurous, you can swim a few laps or enjoy our new outdoor infinity pool with the Matterhorn view. Look out for the gold-coloured glass mosaic stones in the showers, which evoke the Golden Age of alpinism!
Getting here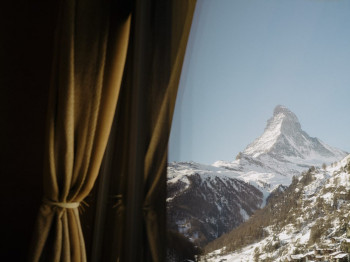 Arrival:
Navigating your way here
Zermatt is a true alpinist car-free town! But don't worry, you won't have to go out of your way to find us - it's still easy to get here by car, train or air. When you get to Zermatt, you can call us to pick you up from the train station in our shuttle: +41 27 966 68 68
By Car
You'll need to park in Täsch at the Matterhorn Terminal and then catch a taxi or 12-minute train to Zermatt. And where is the Matterhorn Terminal? It's 3 hours from Geneva or 3.5 hours from Zurich and has 2,000 parking spaces.
 
By train
Catch the train directly to Zermatt in 4 hours from Geneva or 3.5 hours from Zurich. Remember to give us a call when you arrive and we can pick up up from the station in our shuttle: +41 27 966 68 68
By plane
Oh, I say, you're coming in from abroad! We recommend taking the train (you may have heard that Swiss trains are rather efficient). Otherwise you can hire a car or catch a helicopter.
By helicopter
So you're a modern alpinist? No problem, you can arrive at the Zermatt heliport in 45 mins from Geneva or 1 hour from Zurich with Air Zermatt. We're around the corner from there.
If your arrival at the hotel is likely to be later than 11 p.m. then please let us know so that we can contact you for further information.