The Hotel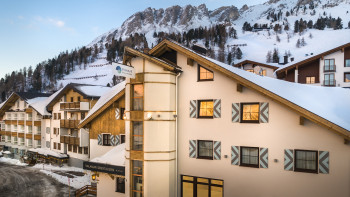 With its quiet location in Obertauern, the Valamar Obertauern Hotel guarantees a perfect holiday in the Salzburg Alps. Here, you'll find the thickest snow cover in Austria and 100 km of ski slopes for every taste at an altitude of 1,700 metres above sea level. The hotel has direct access to ski lifts (mostly open type) and is located in the immediate vicinity of all the services and facilities of the ski resort.
The hotel offers a wide range of comfortable rooms and suites with a view of the mountains, as well as various services and facilities for entertainment and relaxation. Enjoy the combination of Mediterranean, local and international cuisine in our show-cooking restaurant Maremonti. While your children are having fun at the Maro Club with its entertainment programme, you can visit a sauna in our spacious wellness centre or have a glass of wine in good company at the wine bar.
#ALPINEHOLIDAYS
Ein unvergesslicher Urlaub in den Alpen im Valamar Obertauern Hotel mit hervorragender Ausstattung und Serviceangeboten für Erwachsene und Kinder direkt neben den Skipisten.
V HEALTH & SAFETY-PROGRAMM garantiert Ihnen hohe Gesundheits-, Sicherheits- und Umweltstandards, verbesserte Reinigungsprotokolle und einen V HEALTH & SAFETY MANAGER, der rund um die Uhr während des gesamten Aufenthalts zur Verfügung steht
Die V-CARE GUARANTEE ist Teil des V-Health&Safety-Programms, mit dem wir die Organisation aller erforderlichen Gesundheitsdienste während Ihres Urlaubs (auch im Falle von COVID-19-Erkrankungen) sicherstellen. WEITERE INFORMATIONEN
Im Valamar Obertauern Hotel haben alle Mitarbeiter eine COVID-19 Impf- oder Genesungsbescheinigung.
CLEANSPACE - 100% PRIVACY - Ihr Zimmer wurde desinfiziert und bleibt bis zu Ihrer Ankunft geschlossen
SKIFAHREN GANZ OHNE SORGEN - direkter Zugang zu den präparierten Pisten mit einer Gesamtlänge von 100 km und insgesamt 26 Liftanlagen (davon nur eine Gondelbahn) sorgt für ein erstklassiges Skierlebnis ohne Menschenmassen und Wartezeiten
MEHR KOMFORT IM RESTAURANT - im Hotelrestaurant können Sie bis 11:00 Uhr ein verlängertes Frühstück genießen. Das Abendessen wird bei Bedarf in zwei Terminen serviert, um mehr Komfort und Sicherheit zu gewährleisten
MEHR PLATZ FÜR SIE - Für Ihren Komfort und Ihre Sicherheit haben wir die Kapazitäten des Spa-Zentrums, Fitness-Zentrums und Maro Clubs angepasst
ONLINE-REZEPTION wird ein einfaches Check-in über unsere Website oder die MyValamar-App ermöglichen
Parking Area with direct access
Rooms
The hotel offers a wide range of comfortable rooms and suites with a view of the mountains, as well as various services and facilities for entertainment and relaxation.
All rooms with a separate bathroom
All rooms with their own shower
Restaurant & Fine Dining
Discover the fantastic flavours created by our experienced chefs from local ingredients and the finest Mediterranean food in the hotel's show-cooking restaurant. Enjoy Mediterranean cuisine combined with traditional local and international dishes for breakfast and dinner, and don't miss our themed evenings, which are always a special experience. After an exciting day out in the snow, relax in the hotel wine bar and excellent local and imported wines.
Spa & Wellness
Blending Mediterranean heritage with the beauty of local culture, Valamar created Balance Mediterranean Spa that renews, rejuvenates and relaxes. Signature treatments and rituals feature organic cosmetics of local and recognized international brands arising from Mediterranean herbs and ingredients.
Kids & Families
The carefully designed Valamar Maro concept includes an excellent programme for children from 3 to 12 years old, a cinema corner and a fun zone equipped with Play PlayStation and Nintendo Wii gaming consoles. You can always have fun with your children or give them the opportunity to enjoy their holiday just the way they want to with a wide range of activities and under the supervision of our trained staff.
All the resort's amenities are easily accessible from the hotel on skis, and the baby-lift is nearby. Apart from 100 km of well-tended ski slopes, you'll also find the Bibo Bear family park, ski schools for families, and an excellent après-ski offer.