The Hotel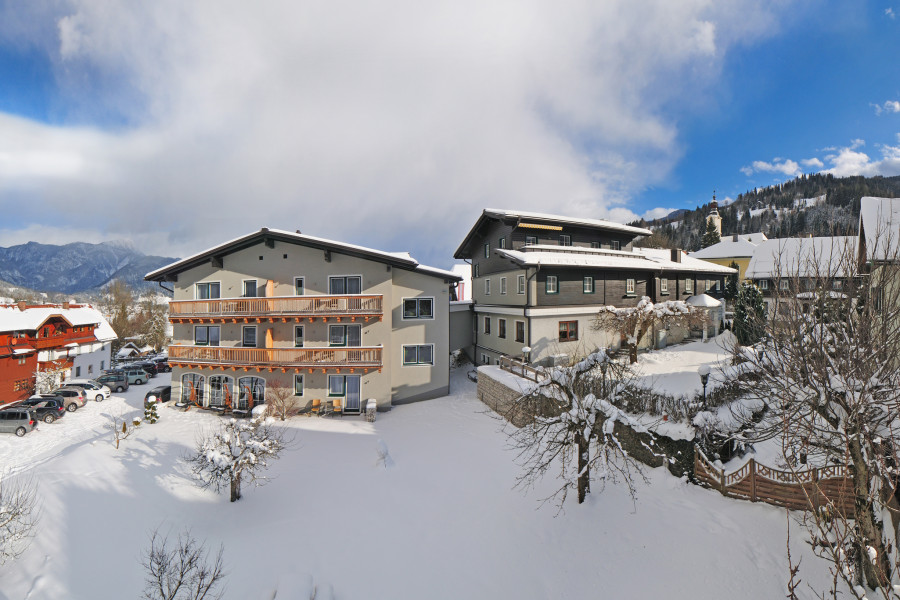 The hotel for your ski holiday in the ski resort Schladming-Dachstein

Enjoy the warm hospitality in the center of Haus - our cozy, family-run hotel provides convivial and cozy living in the vacation.

We are a traditional hotel with modern quality inside:

* Relaxed sleep in new rooms
* New sauna area with Finnish sauna, infrared sauna, steam bath, heated benches, drinking fountains and relaxing room with view to the mountains!
* A la carte restaurant and own restaurant for hotel guests

We serve the finest Styrian delicacies, vegetarian delights and highlights of international cuisine. We place great value on fresh and local ingredients, which are prepared by our cook Anni tasty and lovingly. A glass of wine from our well-selected wine list completes the enjoyment perfectly.

Your SKI-/WINTERHOLIDAY in Ski amadé:
The advantages of our newly renovated hotel in the winter:
+ Ski bus stops opposite the hotel
+ In 3 minutes with the free ski bus to the valley Hauser Kaibling
+ Attractive packages including lift pass
+ Reach up to 150m on skis!
+ Ski rental and ski service right across from the hotel

Skiing on 167 km of slopes with 81 lifts and 40 cable cars. Nonstop skiing on the 4 largest Styrian ski mountains Hauser Kaibling, Planai, Hochwurzen and Reiteralm - and that with only 1 ski ticket!

Snow adventures off the slopes you will find when snowshoeing, cross country skiing, winter hiking, sledding or on a romantic sleigh ride.
Parking Area with direct access
Rooms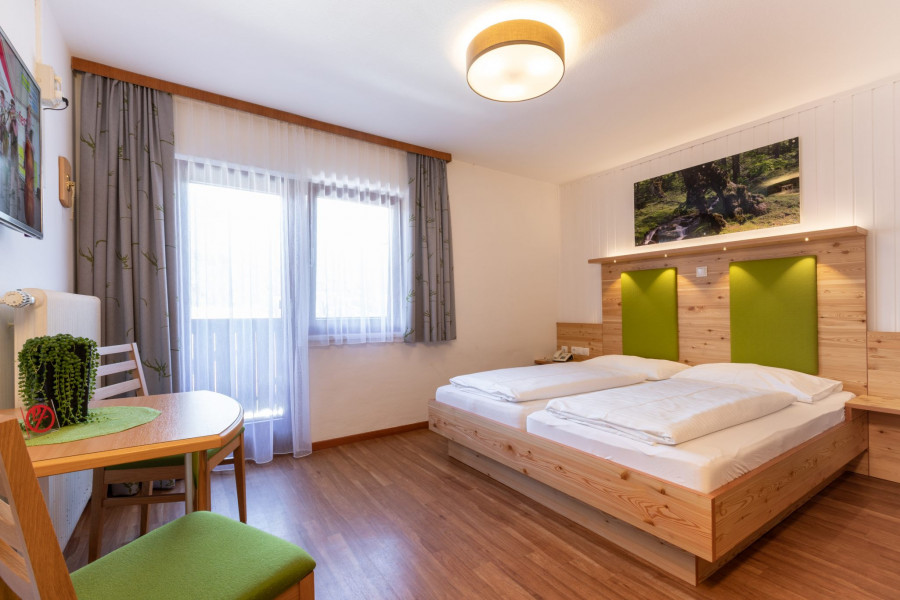 Rooms for Comfort and Relaxation
At Hotel Reiter, traditional Styrian architecture meets a stylish, contemporary ambiance. All of our rooms have been renovated, remodeled or built completely new, with painstaking attention to every detail.
Nestled amid the natural wonders of the Schladming-Dachstein Region, we offer you a refuge in a warm, friendly atmosphere, set against the unique backdrop of the Dachstein Massif.
Since we are always innovative, tailoring our hotel amenities to the expectations of our guests and the spirit of the times, in 2015 we built five new rooms with great views of the green countryside and surrounding mountains, whilst also connecting our two houses via a free-floating walkway: allowing every guest to make their way - protected from the Austrian weather - to our sauna area, to the restaurant for a nice meal, or back to their own cozy room.
Our standard room amenities include:
TV with satellite reception
telephone
most with separate bath – WC
WiFi
some with balcony
All rooms with their own shower
Restaurant & Fine Dining
Comfortable Atmosphere & Excellent Food
Sit back and enjoy - we will cater to your every wish!
Whether in our "Stüberl" or in our brand-new restaurant "s`Gwölb" – our guests always appreciate the stylish, relaxed ambience!
The seclusion of our traditional hotel, combined with the tranquil atmosphere of our dining areas, provides you with a perfect setting for a pleasant timeout in which to enjoy our palate-pleasing menu selection.
Our Motto in the Kitchen
Honest cooking without any unnecessary frills, but with that special "something" for which we are so well known.
We see "cooking" as an honest skill, making use of carefully selected staple ingredients from proven suppliers in the immediate area. For us it is important that this tradition continues, which is why we keep our kitchen firmly in family hands: Senior owner Anni regularly expands her treasure trove of personal specialties with her own new creations.
Half-board or à la carte
Our half-board offers you a four-course menu selection in the evening, including a vegetarian alternative for those who are particularly weight- or health conscious.
Even if you have to deal with food allergies or intolerances, you can still look forward to a pleasant and relaxed dining experience with us. Simply let us know your wishes and needs at the same time you make your hotel booking. We'll then go ahead and discus your menu with you personally every day of your stay.
Individualists often like to book their room with breakfast only and then treat themselves to our typically regional à-la-carte dishes later in the evening.
An excellent drinks selection, including outstanding wines and schnapps, adds a pleasant finishing touch to your evening.
Pleasant outdoor dining area surrounded by greenery
In the summertime, our verdant outdoor dining area is something truly special. Nicely shaded beneath our ash and maple trees, there's nothing left to do but enjoy.
Spa & Wellness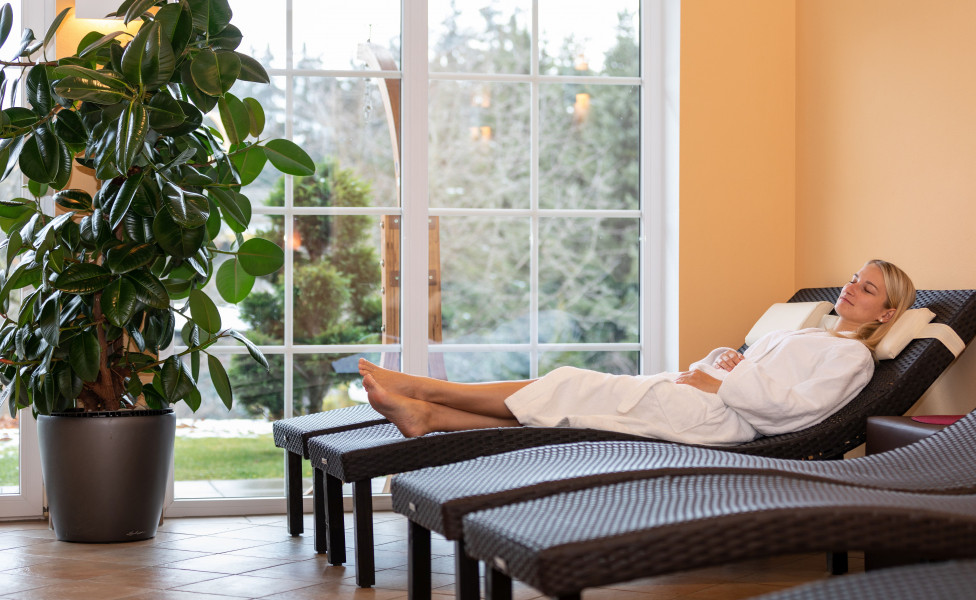 Relaxation and Wellbeing in our Sauna Area
Dream and unwind completely in our spacious sauna and relaxation area. Here with us, you find everything you need to feel on top of the world again:
New since Winter 2018: Finnish sauna (with Lavender infusion)
(Spacious relaxation area with great views of the mountains
Finnish sauna (with Pine infusion)
Infrared cabin
Steam bath
Heat bench
Drinking fountain
All-inclusive - with no extra charges!
In summer, our natural garden located just outside the sauna area invites you to kick back and enjoy. And in winter, that garden transforms into a unique, snowy setting.
Right next to that, Margit Hubner's beauty-pedicure-massage salon adds a wonderful finishing touch to your moments of pure idleness. We would be happy to set up an appointment on your behalf!
Must-Sees Nearby
Winter
Skiing Holidays in Schladming-Dachstein - Ski amadé
Spend your winter holidays at Reiters Wohlfühlhotel in the heart of the Schladming 4-Mountain Ski Area, one of the most beautiful skiing destinations in Austria. The Hauser Kaibling, a ski mountain right at our doorstep, has received multiple awards and international recognition.
You can also return to within 150 meters of Reiters Wohlfühlhotel on skis, while the stop for the ski bus is right across from the hotel. You are just 3 minutes from the gondola lift, where you will also find a ski-rental center and a ski school.
Summer
Truly enjoy the summer, at Reiters Wohlfühlhotel
Enjoy your summer holidays in one of the most beautiful regions in all of Austria - in the Ennstal valley in Styria - at a traditional-yet-innovative hotel: Reiters Wohlfühlhotel. Experience the unique flair of our small establishment as well as heartfelt Styrian hospitality. Our family personally takes care of the needs of every single guest.
When you stay as little as one night, you will also receive the Schladming-Dachstein Sommercard for free. With the Sommercard, you can take advantage of more than 100 sightseeing destinations, attractions and many other highlights of the region, either for free or at drastically reduced prices. Look forward to countless beautiful holiday experiences!
Travel Deals & Tips
Advertisement
Getting here
Arrival by Car
From the East: A 2 to the Sebenstein interchange - S 6 Semmering Schnellstraße to the St. Michael junction - A 9 Pyhrn Autobahn - Selzthal - B 320 Ennstal Bundesstraße - Haus im Ennstal.
From the West: A 10 Tauern Autobahn to the Altenmarkt/Pongau junction - B 320 Ennstal Bundesstraße - Haus im Ennstal.
From the South/East: via Graz - to the St. Michael interchange, A 9 Phyrn Autobahn - Liezen B 320 to Haus im Ennstal.
From the North/East: via Linz - A 9 Phyrn Autobahn to Liezen (Bosruck Tunnel TOLL!! or over the Phyrn Pass) B 320 to Haus im Ennstal.
Arrival by Train
IC Train Station: Schladming 7 km
Regional trains: Haus im Ennstal, 2 km from the town center
Train information
Arrival by Air
Salzburg Airport is ca. 90 km away.
Salzburg Airport
Shuttle transfer from Salzburg Airport to Haus im Ennstal:
Habersatter Reisen
Taxi Maxi
Alternatively, take the train to Schladming, then the bus/taxi to Haus im Ennstal-Aich-Gössenberg.