The Hotel
New year. New highlights at Alpin Panorama Hotel Hubertus.
Alpin Panorama Hotel Hubertus boasts a new architectural masterpiece.
Surpassing limits, taking in new horizons, savouring the feeling of boundless freedom: That's never been easier than at Alpin Panorama Hotel Hubertus in Olang. The family-run hotel at the heart of the Dolomites has been pushing the boundaries for years – in terms of both hospitality and architecture. From May, Hubertus will shine with a new architectural masterpiece, which – like its spectacular Sky Pool – floats between sky and earth: Heaven & Hell, the elegant platform that is turning wellness upside down – quite literally.
An awe-inspiring view leads the gaze from high to low. Between the bright blue sky and the idyllic valley floats the extraordinary wellness area that overshadows everything that came before. The elegant huts, some of which are positioned upside down on the underside of the graceful platform, are reminiscent of the traditional mountain cabins that adorn the gentle high-Alpine meadows in this unique setting. Heaven & Hell is the name of this spectacular, free-floating steel platform with two floors, which is connected to the hotel's new relaxation room via an elegant walkway and gives guests a new perspective of wellness. The visitor's gaze drifts far out over valley and mountains until it reaches the world's most stunning structure: the Dolomites UNESCO World Heritage. While the pleasantly warm water gently caresses their bodies in the lie-down or seated whirlpools on the upper level, peace seekers surrender to the beauty of nature and feel like they've reached Heaven. On the lower level, where the laws of gravity are seemingly suspended, wellness is turned upside down. In Hell, as the nude area is known, things really heat up. As well as two saunas and a nude whirlpool, guests can look forward to an ice room and a heavenly view of the mountains.
Guests who wish to savour freedom and become one with nature have struck gold at Alpin Panorama Hotel Hubertus. Nestled amidst stunning nature, a vast array of options open up at this unique hotel. As well as the new Heaven & Hell wellness platform, the 7,000m2 Alpenreych Park gives guests the choice of seven different saunas, six heated pools, several relaxation rooms, and numerous wellness and beauty treatments that draw on the power of nature. Nature also plays a leading role in the hotel's cuisine. The internationally minded kitchen is a source of unique culinary creations that combine down-to-earth South Tyrolean tradition with the lightness of Mediterranean cuisine. The dishes are served in the new, modern restaurant with spectacular views of the mountains that beckon guests outside for new adventures every day. The varied activity programme tempts guests out into unspoilt nature in all seasons. Hiking, mountaineering, biking, forest bathing, yoga, fitness training, ski and tobogganing excursions, ski tours, snowshoeing, snow groomer and snowmobile rides, and much more is on offer at this hotel that's so close to heaven.
Parking Area with direct access
Rooms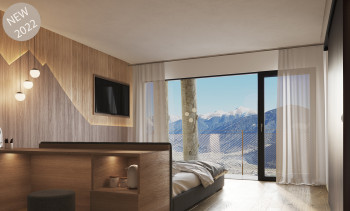 Spend your nights on cloud nine
In all our rooms, you will enjoy incredibly beautiful views from the balcony or terrace of the Dolomites (UNESCO World Heritage Site) and the valley.
All the rooms have free internet access, satellite and SKYitalia TV, telephone, safe, makeup mirror, hair dryer, cosmetic product and scale.
There is also a wellness basket with cosy bathrobe and slippers at your disposal.
All rooms with their own shower
Restaurant & Fine Dining
A gastronomic experience at the highest level will excite you with the true flavours of the natural produce of our land.
Our culinary specialities exceed all expectations: rich buffet breakfast with dairy products from South Tyrol, farm fresh butter, homemade jams, fresh fruit, organic products and gluten-free products. Our breakfast cook composes for you directly in our show kitchen your egg specialities with many different ingredients.
Enjoy as a snack in the afternoon the various salads, soup, cakes and fresh fruit.
In the evening, we invite you to sample our 6-course gourmet menu and culinary festivals with different themes such as Italian evenings, Tyrolean speciality parties, gala dinners, and more…
Spa & Wellness
Water is life. Water is power. It gives shape to landscapes and mountains. Such as the Dolomites that rise majestically in front of our hotel with infinity pool and watch over the unspoilt nature like silent witnesses. It almost seems as if you could touch the peaks when taking your laps in our Sky Pool in South Tyrol, which is reminiscent of a mysterious mountain lake. Can you feel the power of the mountains and the water?
As well as our extravagant Sky Pool in South Tyrol, five other pools await you:
the panoramic outdoor pool (33°C)
the outdoor relaxtion pool (37°C) with a dream view of the mountains
the brine floatation pool (33°C) with soothing salt water
the wonderfully warm outdoor whirlpool (37°C)
the indoor adventure pool (30°C)
Plus three whirlpools in the new Heaven & Hell Sky Spa:
a lie-down whirlpool
a seated whirlpool
a nude whirlpool
Take a break and watch your troubles drift away in our hotel with infinity pool in South Tyrol!
Travel Deals & Tips
Advertisement