Interesting facts
Offering 3000 acres of slopes and terrain, Whitefish Mountain Resort is among the 15 largest Ski Resorts in the USA.
Whitefish Mountain Resort is among the 3 best rated Ski Resorts in Montana.
It is among the 5 most family-friendly ski Resorts in Montana.
The vertical drop from summit to base is 2352 ft. The average difference in altitude between base and summit of Ski Resorts in the USA is 1184 ft. Most runs are therefore relatively long. The high point of the ski resort is located at an elevation of 6818 ft.
Season starts on Dec 6 and ends on Mar 15 (100 days). Average season duration in the USA is 112 days.
Average snow depth during the season (Dec 6 to Mar 15) is 94 " at summit elevation and 35 " at base elevation. Snow coverage is usually best during March, offering an average snow depth of 126 " at summit elevation and 46 " at the base.
Whitefish Mountain Resort features 7 sunny days on average per season. The average for all ski Resorts in the USA is 42 sunny days. February is the sunniest month with an average of 5 sunny days. This makes the ski resort one of the 5 sunniest in Montana.
News
Whitefish Mountain has it all: terrific skiing and snowboarding, great dining facilities, slopeside lodging and fantastic off-slope activities! The resort offers more than 1200 hectares of skiable terrain. In fact, it truly is a huge winter playground! More than half of the trails are for advanced and expert skiers and riders. Try a backcountry snow cat adventure and carve fresh powder snow! However, Whitefish Mountain is huge and so it also offers plenty of room for beginners and intermediates. Take your skiing and riding to the next level and take some lessons at the Ski/Ride School. Experienced instructors will help you to master the powder, to take your first ride with the lift or will teach you a new trick in the park depending on your needs. Whitefish Mountain has also a lot to offer aside from the slopes: Take a dog sledding tour, have dinner on a sleigh ride or visit one of the resort´s fantastic restaurants. Families love Whitefish Mountain! Here children can have a real fun holiday in the snow. Whitefish has a special Kids Center located in the Base Lodge that includes daycare facilities as well as indoor and outdoor play areas. Last but not least Whitefish offers a great variety of on-mountain lodging properties. Book well-timed and spend an unforgettable holiday at Whitefish Mountain Resort!
The Ski Resort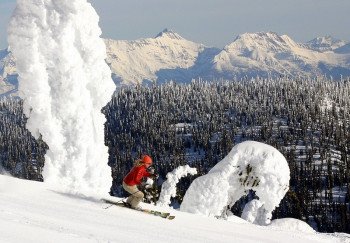 Close to Glacier National Park you'll love the rare beauty of the nature in Montana. More than 3,000 acres and 105 well-groomed trails including vast terrain and snow-piled bowls will keep you entertained for a long time. While the area does designate close to half of its runs as expert skiing, intermediates will still be pleased with almost 40 percent of intermediate terrain. Beginners can hit the 12 percent that are not too challenging and extend their skills quickly.

Everything revolves around the Village. There are more than enough parking lots, so you can kind of head into your skiing adventure straight from your car. Chair 3 Tenderfoot boats the green runs 'Hope Slope', 'Ski Way' and the rest of 'Home Again' which actually starts off the Chair 2 Swift Creek Express higher than mid-mountain. Intermediates can ski ' Central Avenue' to warm up.
If you need more blues, catch the Heritage T-Bar and you'll drop into a handful blues.

Even riding up with Chair 1 Big Mountain Express can be intimidating. It's the perfect ride for those who love high-speed lifts and like to enjoy a great scenery. As soon as you arrived Summit House at an elevation of 6,817 feet you'll be overwhelmed by the generous selection of trails.
The only downside is that beginners and most intermediates can only take one way down. The 'Easiest Route' starts off as the blue 'Russ's Street' and later turns into the super long valley run. Those who don't want to take the crowded trail can only proceed to easier trails by passing different black bowls. Even experts will think twice about hitting those.

Athletes who still need to find their ski legs should either grab Big Easy Carpet, Chair bad Rock or Chair 9 Easy Rider from the Base Lodge. Here you'll always end up between a few of green downhills.

Access the North Side using Chair flower Pont or Chair 7 Big Creek Express. This is a true intermediate's paradise by featuring trails like 'Goat Haunt', 'Inside Road' and 'Whitetail' that all include perfect tree skiing. Make sure everyone can hold their own on the designated black slopes that expect you up here.
'Caribou' is the only green run close to the peak but makes up the lack of beginner runs by being super wide and even descends right into the valley.

If you still don't have enough from sliding on 300 inches of snow that Whitefish gets every year, then check out the many Terrain Parks. Their philosophy is to start small but work up quickly. Magic Park has tiny features and a huge easy carpet. Here you'll be gently introduced to the world of freestyle. Get to Depot Terrain Park via chair 3. It's awesome for those who already hit one or the other jumps and rails but don't feel ready to do a full lap. You can describe it as the ideal stepping-stone towards the larger Central Avenue Park.
The Central Avenue Park boasts all the medium features and elements, which will keep you shredding all day long. You still don't have enough? Take also chair 3 and hit Armory Park. You'll be sweating just watching all the pros showing off their skills. Always keep in mind to stay within your abilities.
Snow Safety & Snowmaking
Average snow depth of the last years (Summit)
(in ")
On Mountain Dining
The Summit House is most likely the best spot for a breathtaking panorama. It's best known for great milkshakes, beer and outstanding mountain fare. If you like to start in the day with a hot breakfast, head to Hibernation House and enjoy the famous French Toast or scrambled eggs. Great coffee and all kind of tea specialties are available as well.
Schedule a visit at Canada's favorite bar, 'The Bierstube'. Hearty burgers and a great patio are reason enough to come here for a lunch break.
Inside the Kandahar Lodge, Kandahar Cafe is beckoning you in. Here you'll only get the great farm-to-table dining experience everyone is talking about.
Video
3-27-15 Sunny Inversion | 01:09
Activities
Race across the mountain with the Alpine Slide. A speeding fun for young and old! A Zip Line is also an option. Ranging from heights between 100 to 1900 feet you'll be fully entertained. By having the Glacier National Park so close, you almost have to slip in your snow shoes and enjoy the great hiking trails.
If you are a coffee snob, book a Coffee Roasting Tour where traders roast exclusive coffee for almost 25 years. As soon as you're done with the tour you can enjoy the hot drink among with a great baking good that are offered as well. You prefer beer over coffee? No biggie! The Great Northern Brewing Company also show you around and explain how they make their brews so special. You need to find back your Shanti after a stressful day on the slopes? Check out the Shanti Yoga Place where you can always join a class to find you inner peace. Whitefish Massage Therapy is for those who don't want to do anything else than get spoiled when the muscles are sore. Remedies Day Spa goes with the same concept and treats you like a VIP in setting that is super comfortable and almost feels homely.
Après-Ski and Nightlife
The Hellroaring is the perfect hangout for Happy Hour. Located in the Original Chalet you'll equally meet locals and tourists that are in a party mood. The Snugg bar at the lobby of Kandahar Lodge has the best drink specials and great music for parties after a long day on the slopes.
Dining and Restaurants
Dining of a special kind! Book the Moonlight Dine&Ski tours to experience an unforgettable dining experience at almost 7000 feet high in the moonlit sky. Ride the Chair Lift, have a nice dinner overlooking the snowy trails and afterwards be part of a moonlight hiking tour back to the base.
Getting here
Glacier Park International Airport is just 19 miles away from Whitefish. Shuttles and rental cars are available to make your vacation super easy.
Driving here is super convenient since you pretty much just have to follow US Highway 93 from wherever you're coming from. Parking spots are never missing and parking rates are extremely reasonable.
The Snow Bus brings you with a valid ski pass everywhere around town and to all base stations.