The Ski Resort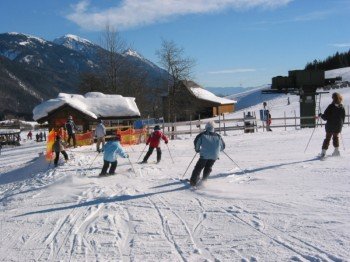 The Weissbriach ski area is ideal for beginners who want to improve their skills, because of its manageability and the pistes marked exclusively in red and blue.
Children can be found on the practice meadow and the Wonder Carpet, which can be used free of charge. The blue marked pistes 2a and 3 are also suitable for the first turns, which winter sports enthusiasts can reach with the Grabisch drag lift. If you need help with this, you can contact the local ski school.
Once the blue marked descents have been mastered with flying colors, you can either take the Gentian lift to the 1,682 metre high Hochwart or the Hammerboden lift to the 1,576 metre high Napalnalm. From there, a red marked track leads down to the valley.
Interesting facts
The vertical drop from summit to base is 1083 ft. The average difference in altitude between base and summit of Ski Resorts in Austria is 2362 ft. Runs and slopes are therefore relatively short. The ski resort takes you to an elevation of 3773 ft.
The day pass at Weissbriach Gitschtal is €31 making it one of the 10 cheapest ski Resorts in Carinthia.
Average snow depth during the season is 24 " at summit elevation and 16 " at base elevation. Snow coverage is usually best during December, offering an average snow depth of 35 " at summit elevation and 24 " at the base.
Weissbriach Gitschtal features 54 sunny days on average per season. The average for all ski Resorts in Austria is 45 sunny days. January is the sunniest month with an average of 21 sunny days.
Snow Safety & Snowmaking
Snowphone
+43 (0)4286 257 od. +43 (0)4286 219
Average snow depth of the last years (Summit)
(in ")