Coronavirus / Covid-19 Measures
Current protective measures and security advice at Visperterminen:
Masks mandatory in all lifts and ski buses
Visitor management in waiting areas (keep your distance)
Masks mandatory at restaurants, ski rental and shops
>> Read more about the Covid-19 guidelines on
The Ski Resort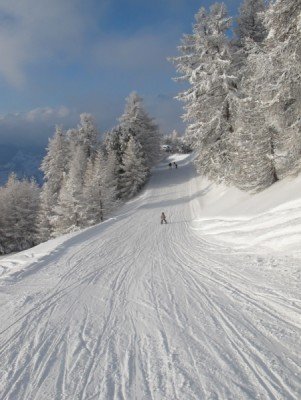 The cosy and sunny skiing area Visperterminen welcomes the young and the old, to spend their skiing holiday in its resort. Equipped with 2 ski lifts and one charlifts the area provides for short waiting times at the lifts and a safe transport to your piste of choice.
The well prepared slopes of Visperterminen are suitable for beginners, intermediates and professionals alike, enabling everyone to find an adequate program.
The alternative wintersport activities at Visperterminen will leave nothing to be desired: A toboggan run of 7 km length guarantees a racy decent back to the village and the walking and snowshoenig trails invite you to explore the surrounding nature. Also, there is a natural ice rink without any user costs.
Interesting facts
The vertical drop from summit to base is 3274 ft. The average difference in altitude between base and summit of Ski Resorts in Switzerland is 2844 ft. The high point of the ski resort is located at an elevation of 7671 ft.
Average snow depth during the season is 38 " at summit elevation and 4 " at base elevation. Snow coverage is usually best during January, offering an average snow depth of 44 " at summit elevation and 5 " at the base.
Visperterminen features 41 sunny days on average per season. The average for all ski Resorts in Switzerland is 36 sunny days. February is the sunniest month with an average of 17 sunny days. This makes the ski resort one of the 15 sunniest in Switzerland.
Snow Safety & Snowmaking
Snowphone
+41 (0)27 9463246
Average snow depth of the last years (Summit)
(in ")