Coronavirus / Covid-19 Measures
Current protective measures and security advice at Trafoi:
Masks mandatory in all lifts and ski buses
Visitor management in waiting areas (keep your distance)
Restrictions on lift capacity
Masks mandatory at restaurants, ski rental and shops
Staff testing on regular basis
Daily disinfection measures
>> Read more about the Covid-19 guidelines on
The Ski Resort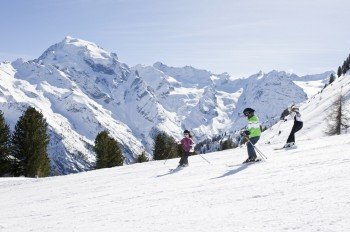 Trafoi is especially family friendly and offers sporty slopes for good ski drivers. Trafoi at the Stelvio Pass in the Ortler Holiday Area is the birthplace of the well-known ski stars Gustav and Roland Thoeni. This ski resort offers estimated and desired advantages to the holiday-makers: no hectic, no crowding at the ski lifts! The mechanical handling capacity of the lift systems is in such a way co-ordinated with the local bed capacity so that waiting periods can be calmly forgotten. The ski runways from a height of 2550 m end directly in front of the accommodation. Owing to these characteristics the winter sportsman experiences a comfortable winter vacation without daily drive to the lift facilities and slopes.
Interesting facts
Elevated between 5151 ft and 8366 ft, the Ski Resort is among the 10 highest elevated Ski Resorts in South Tyrol. The vertical drop from summit to base is 3215 ft. The average difference in altitude between base and summit of Ski Resorts in Italy is 2710 ft.
The day pass at Trafoi is €35.50 making it one of the 10 cheapest ski Resorts in South Tyrol.
Snow coverage is usually best during June, offering an average snow depth of 0 " at summit elevation and 0 " at the base.
Snow Safety & Snowmaking
Average snow depth of the last years (Summit)
(in ")