Interesting facts
The vertical drop from summit to base is 820 ft. The average difference in altitude between base and summit of Ski Resorts in Austria is 2356 ft. Runs and slopes are therefore relatively short. The ski resort takes you to an elevation of 4757 ft.
Season starts on Dec 14 and ends on Mar 15 (92 days). Average season duration in Austria is 113 days.
Average snow depth during the season (Dec 14 to Mar 15) is 18 " at summit elevation and 15 " at base elevation. Snow coverage is usually best during February, offering an average snow depth of 22 " at summit elevation and 19 " at the base.
Teichalm Lifte features 30 sunny days on average per season. The average for all ski Resorts in Austria is 39 sunny days. February is the sunniest month with an average of 17 sunny days.
The Ski Resort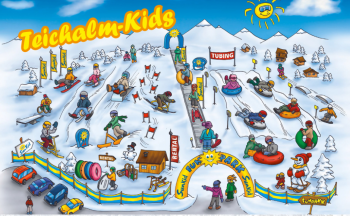 Skiing fun for young and old in Styria - this is what the Teichalm offers with its lifts and slopes. With a good mix of easy, medium and difficult slopes, the Teichalm is always worth a trip for beginners as well as for advanced skiers. Two T-bar lifts and two magic carpets carry the skiers up. In the Liftstüberl you can warm up and eat all day warm.
Away from that wait for Cross-country skiers 15 km well prepared cross-country skiing Loipen and invite you to enjoy the enchanting Almenland.
Snow Safety & Snowmaking
Snowphone
+43 (0)3179 23000 13
Average snow depth of the last years (Summit)
(in ")