The Ski Resort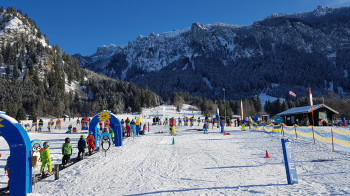 Sports-minded winter holiday makers who love the crisp, cold season are equally enchanted as people with a keen interest in history. The Bavarian village of Schwangau caters to many tastes. From the wide plain that slowly rises towards the alps, from along the winter hiking trails, the cross-country ski trails certified by the German Ski Association (DSV) as well as along the 4.2 kilometre downhill ski run you time and again get new, breathtaking views of Neuschwanstein and Hohenschwangau, the famous castles of King Ludwig II.

During the past years the Tegelberg winter sports arena has developed into a sure-snow area for beginners and advanced skiers. If you're jetting down the Tegelberg run or just mastering your first metres at the Adler, Falken or Reith Lift slopes: All the sure-snow runs are safely illuminated during the evening hours.

At Schwangau's second skiing area at Buchenberg ("Beech Mountain") the double chairlift takes you to the top where you can ski, snow-surf and toboggan while enjoying the panoramic view. Crossing frontiers on skis has a long tradition between the German Allgäu and Austrian Tyrol ­ boarders, carvers and newcomers on skis can freely commute between all circuses of the Vitales Land.
Interesting facts
Elevated between 2723 ft and 5676 ft, the Ski Resort is among the 10 highest elevated Ski Resorts in Germany. The vertical drop from summit to base is 2953 ft. The average difference in altitude between base and summit of Ski Resorts in Germany is 696 ft. Most runs are therefore relatively long.
Snow coverage is usually best during January, offering an average snow depth of 15 " at summit elevation and 8 " at the base. Therefore Tegelberg is among the 10 ski Resorts with best snow conditions in Germany.
Snow Safety & Snowmaking
Snowphone
+49 (0)8362 9836 0
Average snow depth of the last years (Summit)
(in ")