The Ski Resort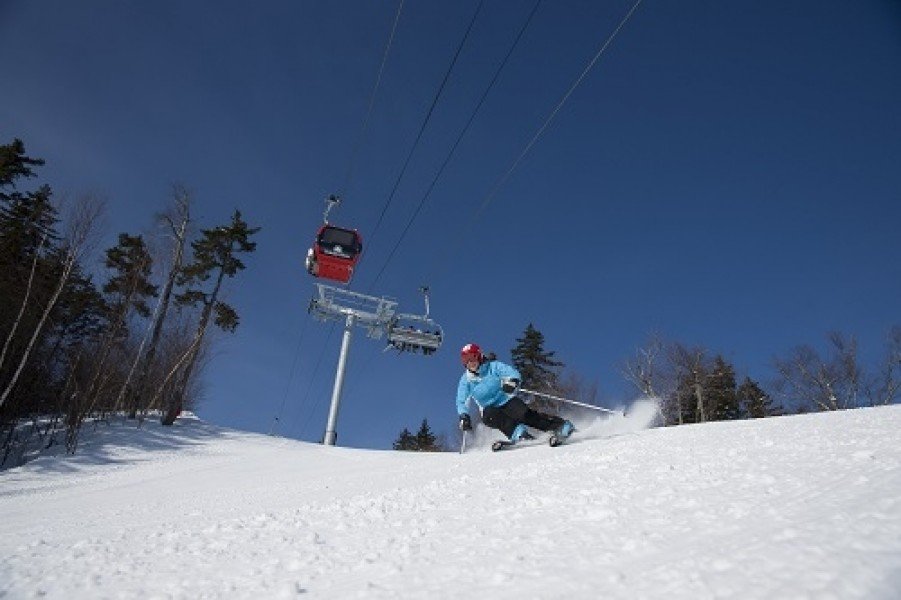 Sunday River Ski Resort truly is a remarkable ski resort: it consists of 8 interconnected mountains. Each of them has something else in store. Cruise on North Peak, conquer the steeps and bumps of White Cap and experience superb tree skiing at Oz! The trails are serviced by 16 lifts that make sure you crest the mountain in no time. The terrain totals 270 hectares. An extensive snowmaking system blankets 92% of the terrain with best man made snow which makes Sunday River the resort with the most snowmaking in the East.
Freestylers will find 4 terrain parks with a variety of features that'll give you a blast! The parks are complemented by a huge superpipe and a mini pipe. If you've always wanted to be the first on the mountain here is your chance: Sunday River grants access to a limited number of people before the resort opens its doors to the public. Be the first to make your turns on untouched snow! Another opportunity to experience the mountian like never before is to take a tour with your personal mountain guide. Ski and ride the mountain like a local! Your guide will show you the secret spots and stashes of the mountain to make your mountain experience a special one.
Yet, Sunday River is not only a great resort for advanced skiers and riders but also for beginners and families! The Ski School offers programmes for children and adults alike.
Interesting facts
Offering 660 acres of slopes and terrain, Sunday River Ski Resort is among the 3 largest Ski Resorts in Maine.
Sunday River Ski Resort is among the 3 best rated Ski Resorts in Maine.
Elevated between 823 ft and 3150 ft, the Ski Resort is among the 5 highest elevated Ski Resorts in Maine. The vertical drop from summit to base is 2326 ft. The average difference in altitude between base and summit of Ski Resorts in the USA is 1204 ft. Most runs are therefore relatively long.
Average snow depth during the season is 38 " at summit elevation and 29 " at base elevation. Snow coverage is usually best during March, offering an average snow depth of 50 " at summit elevation and 40 " at the base. Therefore Sunday River Ski Resort is among the 3 ski Resorts with best snow conditions in Maine.
Sunday River Ski Resort features 44 sunny days on average per season. The average for all ski Resorts in the USA is 46 sunny days. March is the sunniest month with an average of 12 sunny days. This makes the ski resort one of the 3 sunniest in Maine.
Snow Safety & Snowmaking
Snow Making Machines:
2000
Average snow depth of the last years (Summit)
(in ")
Travel Deals & Tips
Advertisement
On Mountain Dining
At Peak Lodge Food Court, you can get ready for some fun on the slopes with breakfast, lunch, or a snack. From pizza and baked potatoes to sweet baked goods like the typical cinnamon buns, there is something for everyone.
At South Ridge Lodge, you will find a number of dining opportunities. Go to the Food Court if you just want to grab a quick bite to eat before jumping right back onto your skis. At Coffee Hound Bar, you find excellent coffee, gourmet hot chocolates, and delicous mini donuts. If you're looking for something different, try Japanese or Korean at Cho Sun, or enjoy a burrito at Cilantro.
Barker Lodge boasts unique charm at Maine's only tiny house mobile serving hot and cold foods: Salt Box Café. For everyone with a bit of a sweet tooth, Waffle Cabin makes great waffles. Shipyard Brew Haus at White Cap Lodge is a relaxed hang-out to grab something to eat, especially for families.
Must-Ski Runs
Longest Runs
Jordan Bowl-White Cap Lodge (Kansas-Lights Out-Second Mile-Last Mile-Mixing Bowl-Roadrunner)
Videos
Epic powder day at Sunday river, Feb 2018
Activities
Sunday River has more than just a great ski and snowboard trip in store for you though. For instance, the resort is home to a snowtubing hill at White Cap where the entire family can have a blast! Just get on that tube, slide down the chutes and feel the icy air in your face! Other great family activities include dog sledding and an ice rink.
Looking for a calmer activity? Sunday River has great cross country and snowshoeing trails around! Escape everyday-life and enjoy the serenity of untouched nature. Afterwards, you can relax at Jordan Spa & Health Club.
Après-Ski and Nightlife
Of course the various Lodges also have a few party venues. One popular location is Barker Bar at Barker Lodge. Especially its Mug Club attracts visitors and locals alike. Sunday River's classic apres-ski spot is Foggy Goggle. A range of local craft beers make sure you never get thirsty. Burgers, wings, salads, and nachos take care of any growling stomach. Furthermore, there is live entertainment every Friday and Saturday night.
Getting here
Sunday River is situated in the mountains of Western Maine, around 90 minutes from Portland and three hours from Boston.