Interesting facts
Offering 1648 acres of slopes and terrain, Sugar Bowl Resort is among the 10 largest Ski Resorts in California.
Sugar Bowl Resort is among the 10 best rated Ski Resorts in California.
The vertical drop from summit to base is 1499 ft. The average difference in altitude between base and summit of Ski Resorts in the USA is 1188 ft. The ski resort takes you to an elevation of 8383 ft.
Season starts on Dec 8 and ends on Apr 15 (128 days). Average season duration in the USA is 111 days.
The Ski Resort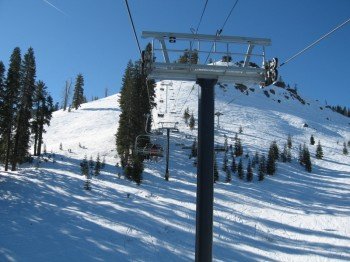 Sugar Bowl stretches over 4 peaks and offers over 600 hectares of varied terrain. 95 trails are waiting to be explored. They are serviced by 13 lifts including one gondola. Take a scenic gondola ride and get an overview of the resort! The majority of the Mt Judah terrain is dedicated to freestyle skiers and riders. Check out the extensive freestyle terrain with a whole bunch of great features and even a boardercross training course!
Sugar Bowl makes everyone happy: There is great beginner terrain with special slow skiing areas so you can practice in a safe environment. The Mountain Sports Learning Center offers progressive programs for young and old. If you have a qualifying season pass or lift ticket you can even take a lessons for free! The rental shop will cover you with everything you need for your fun day on the mountain.
However, Sugar Bowl is also a stunning resort for experienced skiers and riders. Sugar Bowl has its own Backcountry Adventure Center for everyone who is tired of staying withing the boundaries. Take a guided backcountry tour in company of a professional guide. Yet, safety always comes first. Hence, the center also offers avalanche education and special preparation programs. Make your holiday a perfect one and relax in the summit spa located at the top of Donner Summit. Get a morning sports massage to prepare yourself for a great day on the trails or get a deep tissue massage to relax your muscles after a long day on the mountain!
Must-Ski Runs
Longest Runs
Crowley´s off of Mt. Lincoln