Coronavirus / Covid-19 Measures
Current protective measures and security advice at Sternstein Lifte:
Masks mandatory in all lifts and ski buses
Visitor management in waiting areas (keep your distance)
Masks mandatory at restaurants, ski rental and shops
No Après Ski
Daily disinfection measures
>> Read more about the Covid-19 guidelines on
The Ski Resort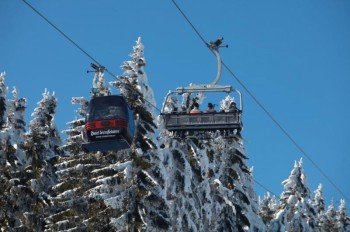 The Sternstein in Bad Leonfelden is one of the most traditional ski areas in the Mühlviertel and scores with four downhill runs and a combined lift (8-seater gondola and 6-seater chairlift). The slopes range from easy to moderate and are suitable for winter sports enthusiasts of all ages and abilities. Children, on the other hand, learn the first turns on their skis in the Winterland "ELEFUNTASIA" with a castle and snow spitting elephants.
Interesting facts
The vertical drop from summit to base is 1056 ft. The average difference in altitude between base and summit of Ski Resorts in Austria is 2359 ft. Runs and slopes are therefore relatively short. The highest point of the track is 3681 ft above sea level.
Average snow depth during the season is 19 " at summit elevation and 13 " at base elevation. Snow coverage is usually best during January, offering an average snow depth of 21 " at summit elevation and 14 " at the base.
Sternstein Lifte features 37 sunny days on average per season. The average for all ski Resorts in Austria is 39 sunny days. February is the sunniest month with an average of 15 sunny days.
Snow Safety & Snowmaking
Snowphone
+43 (0)7213 6374
Average snow depth of the last years (Summit)
(in ")
Videos
Sternstein - Skifahren Mühlviertel | 01:43
Kinderland Sternstein - Familienskigebiet...
http://www.sternstein.at Familienskigebiet im...
Getting here
From Linz take the B126 to Bad Leonfelden. In Oberlaimbach turn left to the Sternstein lifts. Directly at the base station there is a large parking lot.