The Ski Resort
By featuring mostly blue and red marked terrain Steinplatte is one of the family-friendliest ski resorts in Austria. It also suits intermediate skiers and guarantees a snow-filled winter vacation.
Grab the gondola Waidring in the eponymous valley Waidring to get up the mountain quickly. From here you´ll have access to the red and blue trails.

Steinplatte has a wealth of trails for novice skiers and snowboarders by boasting ten trails that are suitable for them. The parking lot run starts at Kammerkör and you can always see that you´re on the right track by following the Kammerkör chairlift. Two other Kammerkör runs start at Kammerkör that go parallel to Kapellen chairlift. The trails will bring you back to the base of Kapell chairlift and Steinplatte chairlift. You can also take the Möseralm trail that starts at Kammerkör as well. The name speaks for itself, it takes you to Möseralm. The Roßalm trail is located in the ski resort Winklmoosalm, connected by the Scheibberg chairlift. Start at Möseralm and ski through the foresty area in order to get to Winklmoosalm lift top station and off you go on the Roßalm trail. Ski parallel to Roßalm chairlift to get back to the base station. At Roßalm chairlift top station starts the Ziegeuner run as well. By skiing down you will get to the base station of the ski tow Zigeuner-Kurven.

Beginners are mostly restricted to the runs at Kammerkör while intermediate skiers will love the trails starting at the peak of Steinplatte. Catch the Plattenkogel chairlift to get up to the vertical rise of 1869 meters (6131 feet) above sea level. You can also hit the Steinberg runs that take you along the chairlift Bäreck to its valley station or the Larchen run that takes you back to the base station of Plattenkogel chairlift. Don´t miss the red marked Kammerkör run. It starts at mountain station of Steinplatte chairlift and brings you back to the base.

The Nordhang trail will even please the most courageous skier and snowboarder. Starting point is the peak of Steinplatte at a height of 1869 meters (6131 feet). Hit your personal limit while making your way back to the base of Plattenkogel chairlift.

Check out the terrain park with fun slope at Steinplatte. The park is accessible via Kapellen chairlift and lies parallel to it. The 740 meter (2427 feet) long park splits into a beginner, medium and advanced terrain. The beginner line will help ski newbies to explore new skills and practice new moves on dancefloor, wax box, elephant box, flat/down butter-box and mushroom-jib. You´ll also find a 1/3 tube as well as countless jumps. The Medium line for intermediate Freestyler includes a 3 meter (10 feet) wallride spine, a 6-meter (19 feet) long picknicker and a jibcam plus a lollipop. You can also hit the 7 (23 feet) or 8 meter (26 feet) long rails and three different boxes. The advanced terrain boats a massive kicker line with 11 meter (36 feet) long jumps. Every expert freestyler will feel his heart race faster!
Interesting facts
The vertical drop from summit to base is 3704 ft. The average difference in altitude between base and summit of Ski Resorts in Austria is 2372 ft. Most runs are therefore relatively long. The highest point of the track is 6132 ft above sea level.
Average snow depth during the season is 53 " at summit elevation and 14 " at base elevation. Snow coverage is usually best during February, offering an average snow depth of 61 " at summit elevation and 16 " at the base.
Steinplatte features 29 sunny days on average per season. The average for all ski Resorts in Austria is 33 sunny days. February is the sunniest month with an average of 13 sunny days.
Snow Safety & Snowmaking
Snow Making Machines:
230
Snowphone
+49 (0)8640 80020
Average snow depth of the last years (Summit)
(in ")
Travel Deals & Tips
Advertisement
On Mountain Dining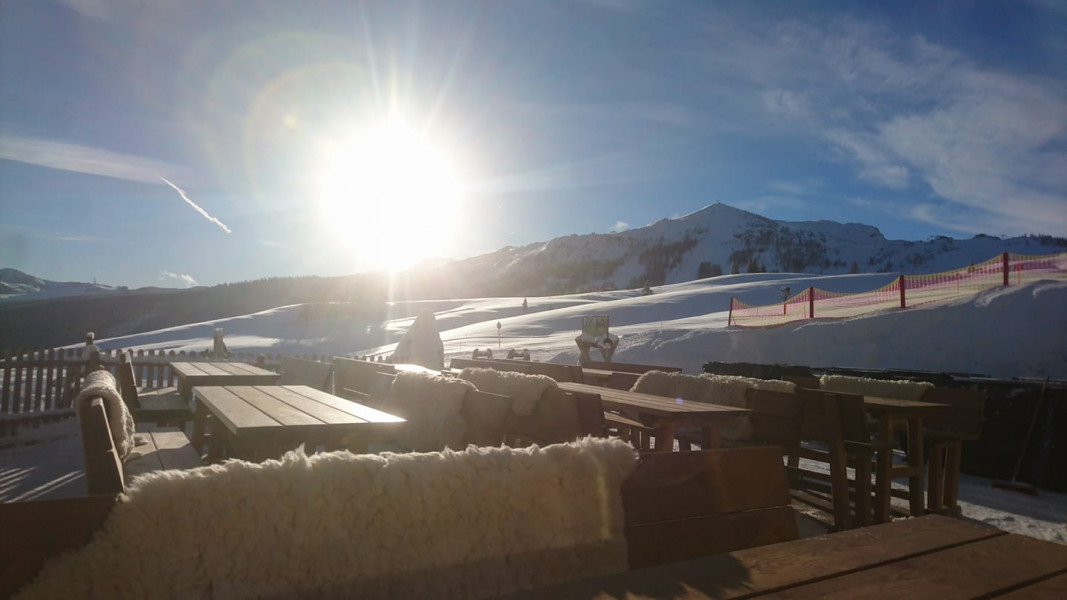 Everywhere at Steinplatte you´ll find mountain huts that offer everything you crave while skiing. The mountain hut Kammerkör at gondola top station awaits you with local specialties and an unique panorama.

The Möseralm offers yummy dishes and a generous sun deck to recharge your batteries and prepare to hit the ski trails after. The featured umbrella bar is great for a drink or two.

When you get out at the base station of the 6 seater chairlift Plattenkoppel you´ll see the self-service cafeteria restaurant Bäreck. It´s famous among seasonnaires and locals for an outstanding good cuisine and a comfy sun terrace.
Must-Ski Runs
The longest trail is Steiinplatte-Seega. With a length of 12 kilometer (7,4 miles) it features a height difference of 1120 meters (3674 feet) and is among Germany´s longest trails.

The most challenging run is the black marked Nordhang run that brings you from the peak of Steinplatte down to Plattenkogel chairlift base station. The run brings a length of 1,2 kilometers to the table and you actually have to overcome a height difference of 385 meters on your way back to the base station Plattenkogel chairlift.
Most Difficult Runs
Nordhang Abfahrt Nr. 8 der Steinplatte
Video
Steinplatte, vom Gipfel nach Seegatterl in 11 Minuten
Activities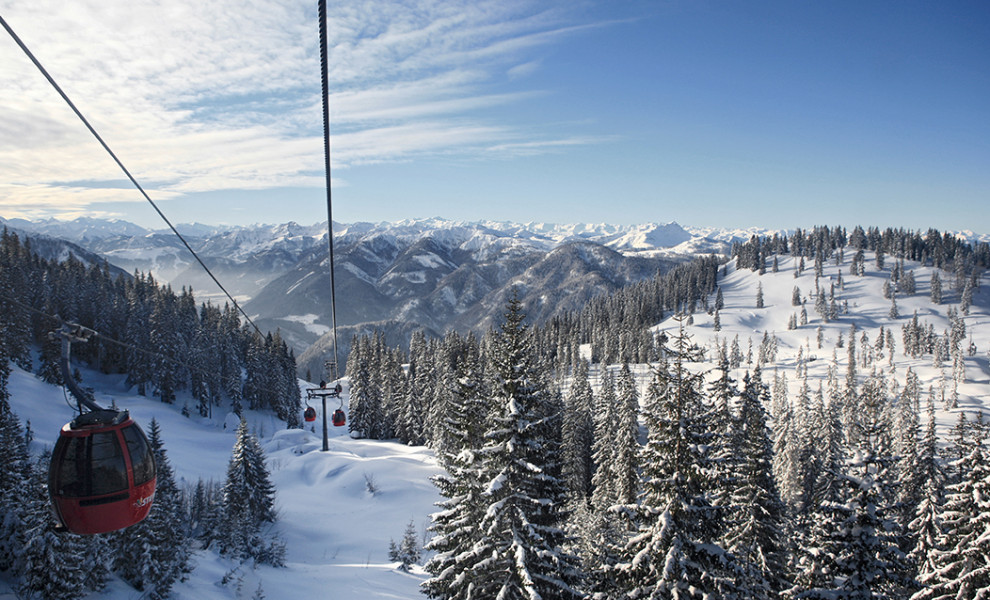 100 kilometers (62 miles) of well-prepared winter hiking tracks are part of the ski resort. Those are located at the region Pillersee Tal which is part of the town Waidring and will take you through idyllic winter landscapes and rustic mountain huts and restaurants.

Young and old fun-seeker can go for a ride on the natural toboggan run. The bobsled tube run guarantees fun as well and has its location right in Waidring.
Après-Ski and Nightlife
If you want to party all night check out ´Laufstall´ at the gondola top station. Back at the base station you can continue partying in Zardinis. The modern Tyrolean restaurant is famous for an outstanding atmosphere. There´s never a shortage of live-music.
Number of Bars and Pubs:
7
Dining and Restaurants
Culinary delights expect guests in the **** restaurant Rilano Resort Steinplatte. Regional specialties turn into modern crossover creations. Fine dining is possible with up to 20 people in the rustic in their own wine cellar.
Infrastructure & Rental
Skischools
Number of Snowboard Schools:
3
Getting here
By car:

Coming from Germany take A8 towards Salzburg after the freeway intersection Munich South. The freeway intersection Inntal change onto A93 towards Innsbruck, Kufstein, Brenner. Continue for about 25 km (15,5 miles) and then switch onto A12 and exit at the connection Wörgl East towards St. Johann in Tyrol. Drive on B171 for about 4 kilometers (2,5 miles) and then you´ll automatically get on St. Johann in Tyrol. After make a turn to Waidring.

Coming from Austria take A1 to Salzburg or A10 until you get to the exit Salzburg West. From here you can follow on B178 via Lover to Waidring.

Coming from Italy take the Brenner freeway to Innsbruck and drive on A12 to Salzburg. Leave at the junction Wörgl East towards St. Johann in Tyrol and follow for 4 km (2,5 miles) on B171. After take B178 to Johann in Tyrol to Waidring.