Interesting facts
The vertical drop from summit to base is 1499 ft. The average difference in altitude between base and summit of Ski Resorts in the USA is 1188 ft. The highest point of the track is 4846 ft above sea level.
Season starts on Nov 22 and ends on Mar 29 (128 days). Average season duration in the USA is 111 days.
During the season (from Nov 22 till Mar 29) the average snow depth at Snowshoe Mountain is 40 ". Snow coverage is usually best during November, offering an average base depth of 44 ".
Snowshoe Mountain features 48 sunny days on average per season. The average for all ski Resorts in the USA is 54 sunny days. December is the sunniest month with an average of 14 sunny days.
The Ski Resort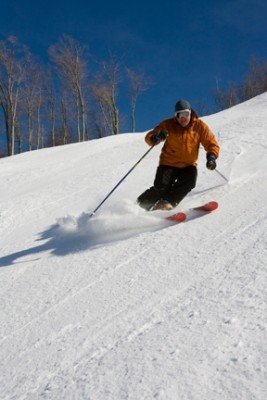 Snowshoe Mountain is great! In fact, it is the largest ski resort in the Mid-Atlantic and Southeast. It is located at 1477 meters high above Pocahontas County. The resort is blessed with an average snowfall of 5 meters. Nonetheless, there is snowmaking on the entire terrain in case nature doesn´t treat the area with enough snow. Snowshoe Mountain is the only resort in the region with a mountain top village. The majority of Snowshoe´s accommodations provide slopeside convenience enabling visitors to start skiing right in front of their back door. There are 98 hectares of skiable terrain to be explored. Snowshoe Mountain offers plenty of trails and slopes for all ability levels. Freestylers will find two terrain parks, Spruce Glades Terrain Park and Powder Monkey Terrain Park. They are stuffed with great features that will push you to the next level! Snowshoe Mountain is also a great place to learn to ski or ride. The Ski School offers private and group lessons for children and adults as well as adaptive programs for disabled individuals. All programs are tailored for a special ability level to provide the best instruction possible. Families also have the opportunity to go snowtubing at Snowshoe Mountain´s partner resort Silver Creek Area. Yet, the fun doesn´t end here. Snowshoe Mountain offers a lot more winter activities such as snowmobiling, snowcat tours or adventure dining at the Backcountry Hut. Take a break and relax for a while at the Tuscan Sun Spa & Salon to make your holiday a perfect one!
Video
We're Open for the Season! | 01:09
Getting here
Snowshoe Mountain Resort is about 150 miles from Charleston, WV.