Coronavirus / Covid-19 Measures
Current protective measures and security advice at Snow Summit:
Masks mandatory in all lifts and ski buses
Visitor management in waiting areas (keep your distance)
Masks mandatory at restaurants, ski rental and shops
Daily disinfection measures
Lift tickets must be purchased in advance
>> Read more about the Covid-19 guidelines on
The Ski Resort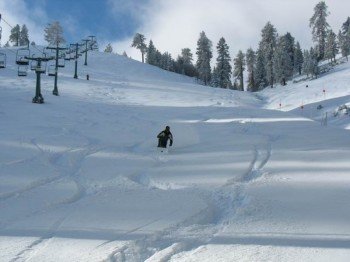 Snow Summit is sister mountain of Bear Mountain and the two resorts are connected by a free shuttle service. Snow Summit offers a skiable terrain of 97 hectares. You can choose from 31 trails. The mountain provides plenty of trails for all ability levels. However, more than half of the trails are expert runs.
Snow Summit puts much effort into snowmaking. The resort owns over 330 snowguns that ensure best snow conditions during the entire season even when the area is not treated with enough natural snowfall. Snow Summit also has two terrain parks, Fun Zones and Ego Trip. Fun Zones is perfect for novice freeystylers. It is full of beginner elements on which you can practice without harming yourself. Ego Trip, in contrast, is for those looking for a challenge. It has a variety of indermediate and advanced jibs and jumps. The staff at Snow Summit is very dedicated to providing best conditions and maintain terrain features nightly so you will always find perfect features.
Finally, Snow Summit is also a wonderful place for first timers. The Snowsport School offers a great variety of different programs for both children and adults. They address not only beginners but also those who already have some experience and want to further their skills. And at Snow Summit the Snowsports School is even a place for advanced skiers and riders. For instance, they can participate in the "Go with a Pro" programs in which they can get helpful tips by a real mountain aficionado.
Interesting facts
The vertical drop from summit to base is 1201 ft. The average difference in altitude between base and summit of Ski Resorts in the USA is 1188 ft. The ski resort takes you to an elevation of 8199 ft.
Season starts on Nov 27 and ends on Apr 4 (128 days). Average season duration in the USA is 116 days.
Average snow depth during the season (Nov 27 to Apr 4) is 21 " at summit elevation and 9 " at base elevation. Snow coverage is usually best during March, offering an average snow depth of 24 " at summit elevation and 12 " at the base. Therefore Snow Summit is among the 5 ski Resorts with best snow conditions in California.
Snow Summit features 103 sunny days on average per season. The average for all ski Resorts in the USA is 53 sunny days. January is the sunniest month with an average of 29 sunny days. This makes the ski resort one of the 3 sunniest in the USA.
Snow Safety & Snowmaking
Snow Making Machines:
330
Average snow depth of the last years (Summit)
(in ")
Videos
Welcome Back to Winter | 01:07
Opening Day 2019 | Snow Summit
Snow Summit is now open for the 19/20 winter season.
First Snowfall Of The Season
Your Mountains, Your Passes
ALPINE GOOD TIMES, GUARANTEED.Whether it's flying...