Coronavirus / Covid-19 Measures
Current protective measures and security advice at Ski Santa Fe Resort:
Visitor management in waiting areas (keep your distance)
Restrictions on lift capacity
Masks mandatory at restaurants, ski rental and shops
Daily disinfection measures
Lift tickets must be purchased in advance
Face covering required anytime while on the premises incl. the lift line, riding the lift & while skiing or boarding
>> Read more about the Covid-19 guidelines on
The Ski Resort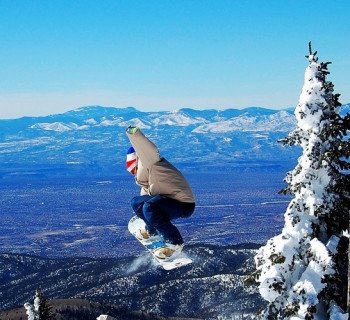 Ski Santa Fe is located high above the historic city of Santa Fe. With a top elevation of 3,680 meters it offers world class skiing conditions. There is a wide range of terrain with trails and slopes for everyone. Find isolated beginner slopes and smaller bowls, long cruisers and gentle runs, steep challenging runs and even a out-of-bounds run that will satisfy any pouder hound. With 73 trails on a terrain that totals 267 hectares everyone will find what they´re looking for. Freestylers can show their skills at "The Bone Yard" Freestyle Terrain Park located at the lower Gayway. It features 14 elements designed for beginners and intermediates. Ski Santa Fe loves children! Hence, there is a special Children´s area available called "Chipmunk Corner". It is a separate complex including a ski and snow play area. Here your children can learn how to ski and ride and make some new friends in a friendly atmosphere. In addition, there is also a daycare available for the little toddlers. Experienced staff will take care of your children while you enjoy skiing and riding on the great trails of Ski Santa Fe! All this makes Ski Santa Fe a resort as much for families as for expert skiers and snowboarders looking for an adventure! There are two dining areas where you can take a break and get some refreshment. Relax an enjoy your favorite hot beverage and try a tasty burger or a home-made soup.
Interesting facts
Offering 660 acres of slopes and terrain, Ski Santa Fe Resort is among the 3 largest Ski Resorts in New Mexico.
Ski Santa Fe Resort is among the 3 best rated Ski Resorts in New Mexico.
It is among the 3 most family-friendly ski Resorts in New Mexico.
Elevated between 10351 ft and 12073 ft, the Ski Resort is among the 15 highest elevated Ski Resorts in the USA. The vertical drop from summit to base is 1726 ft. The average difference in altitude between base and summit of Ski Resorts in the USA is 1188 ft. Most runs are therefore relatively long.
Season starts on Nov 26 and ends on Apr 4 (129 days). Average season duration in the USA is 116 days.
During the season (from Nov 26 till Apr 4) the average snow depth at Ski Santa Fe Resort is 75 ". Snow coverage is usually best during February, offering an average base depth of 84 ". Therefore Ski Santa Fe Resort is among the 10 ski Resorts with best snow conditions in the USA.
Ski Santa Fe Resort features 88 sunny days on average per season. The average for all ski Resorts in the USA is 57 sunny days. December is the sunniest month with an average of 22 sunny days. This makes the ski resort one of the 5 sunniest in the USA.