Coronavirus / Covid-19 Measures
Current protective measures and security advice at Seven Springs Mountain Resort:
Masks mandatory in all lifts and ski buses
Visitor management in waiting areas (keep your distance)
Masks mandatory at restaurants, ski rental and shops
Daily disinfection measures
Face covering required in lift lines
Lift tickets must be purchased in advance
>> Read more about the Covid-19 guidelines on
The Ski Resort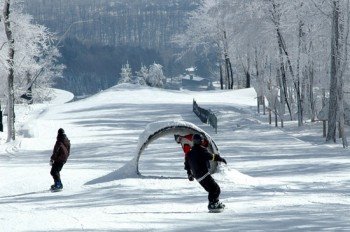 Seven Springs Mountain Resort is a four season resort and one of the largest and most popular in its region. The skiable terrain totaling 115 hectares spreads over two faces of the mountain which has an elevation of over 900 meters. This resort is recommendable to skiers and riders of all ability levels. No matter if you´re looking for smooth and gentle runs or if you prefer daunting terrain you won´t be disappointed! Freestylers can choose from 5 Terrain Parks with great features that differ in size and difficulty.
In addition, Seven Springs has an award winning Snowsports School! For example, its children program has been ranked #3 in North America by SKI Magazine. There are multiple programs available each tailored for different special needs. Yet, the Snowsports School does not only address beginners but also offers programs for advanced skiers and riders because there is always more to learn!
However, there is a lot more to do at Seven Springs than just skiing and snowboarding. Families listen up! There is a great snowtubing park at Seven Springs and you shouldn´t miss visiting it! It is the ultimate winter experience for the entire family since it is so easy that everyone can do it. Just tuck yourself into a tube and enjoy the thrill of speed! However, winter fun still doesn´t end here. There is a lot more to do at Seven Springs! Take a snowcat tour, go snowshoeing, take a sleigh ride or go snowmobiling if you want even more horse power. And after all you´re in a huge resort with great restaurants and a spa where you can relax in the hot tub or get a soothing massage!
Interesting facts
Offering 282 acres of slopes and terrain, Seven Springs Mountain Resort is the largest ski resort in Pennsylvania.
Seven Springs Mountain Resort is among the 3 best rated Ski Resorts in Pennsylvania.
Elevated between 2241 ft and 2992 ft, the Ski Resort is among the 3 highest elevated Ski Resorts in Pennsylvania. The vertical drop from summit to base is 755 ft. The average difference in altitude between base and summit of Ski Resorts in the USA is 1201 ft.
Average snow depth during the season is 31 " at summit elevation and 20 " at base elevation. Snow coverage is usually best during February, offering an average snow depth of 41 " at summit elevation and 26 " at the base. This makes Seven Springs Mountain Resort the ski resort with the best snow conditions in Pennsylvania.
Seven Springs Mountain Resort features 57 sunny days on average per season. The average for all ski Resorts in the USA is 58 sunny days. March is the sunniest month with an average of 25 sunny days.
Snow Safety & Snowmaking
Average snow depth of the last years (Summit)
(in ")
Videos
Thoughts of Seven Springs | 02:57
Winter Family Memories Package
More fun, more play, more ADVENTURE! Kick that cabin...