Coronavirus / Covid-19 Measures
Current protective measures and security advice at Salzstiegl:
Masks mandatory in all lifts and ski buses
Visitor management in waiting areas (keep your distance)
Masks mandatory at restaurants, ski rental and shops
No Après Ski
Daily disinfection measures
>> Read more about the Covid-19 guidelines on
The Ski Resort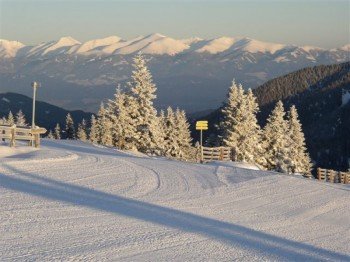 Salzstiegl is located 50 km from Graz and on a sea leavel between 1.320 and 1.740 m. Skiing, boarden, cross-country skiing and toboggan - these all you can enjoy by us. The ***pension Moasterhaus is located directly at the ski area and the toboggan run with hut and has 40 rooms for families, couples and singles.

The toboggan run is very popular and opened between 11-21 o´clock - on Friday it is opened util 22 o´clock.
Interesting facts
The vertical drop from summit to base is 1312 ft. The average difference in altitude between base and summit of Ski Resorts in Austria is 2359 ft. Runs and slopes are therefore relatively short. The highest point of the track is 5610 ft above sea level.
Average snow depth during the season is 28 " at summit elevation and 21 " at base elevation. Snow coverage is usually best during March, offering an average snow depth of 33 " at summit elevation and 25 " at the base.
Salzstiegl features 40 sunny days on average per season. The average for all ski Resorts in Austria is 37 sunny days. February is the sunniest month with an average of 20 sunny days. This makes the ski resort one of the 15 sunniest in Austria.
Snow Safety & Snowmaking
Average snow depth of the last years (Summit)
(in ")