Coronavirus / Covid-19 Measures
Current protective measures and security advice at Rigi:
Restrictions on lift capacity
Face coverings mandatory in cable cars and indoor facilities
Physical distancing in indoor facilities and waiting areas
Access to restaurants for vaccinated or recovered persons only
Daily disinfection measures
>> Read more about the Covid-19 guidelines on
The Ski Resort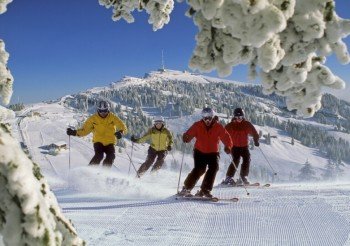 The sunny and well situated area of Rigi offers any winter sports fan the appropriate activities.
Interesting facts
The vertical drop from summit to base is 1434 ft. The average difference in altitude between base and summit of Ski Resorts in Switzerland is 2881 ft. Runs and slopes are therefore relatively short. The high point of the ski resort is located at an elevation of 5748 ft.
Average snow depth during the season is 15 " at summit elevation and 12 " at base elevation. Snow coverage is usually best during February, offering an average snow depth of 18 " at summit elevation and 15 " at the base.
Rigi features 28 sunny days on average per season. The average for all ski Resorts in Switzerland is 34 sunny days. February is the sunniest month with an average of 14 sunny days.