Coronavirus / Covid-19 Measures
Current protective measures and security advice at Red River Ski Area:
Visitor management in waiting areas (keep your distance)
Restrictions on lift capacity
Lift tickets available online
Daily disinfection measures
Face covering required at all times while visiting Red River Ski Area
Lift tickets for holidays must be purchased in advance
>> Read more about the Covid-19 guidelines on
The Ski Resort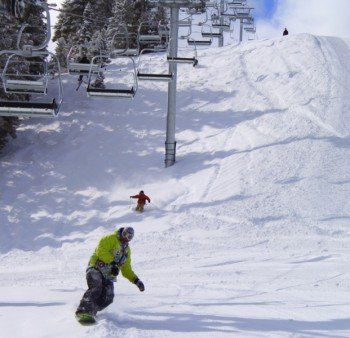 In Red River you can ski deep powder under the bluest of skies, then soak in a hot tub as the snow falls and fireworks light the night. You can ride a horse through mountain trails in the morning, enjoy a wine tasting in the afternoon, and two-step the night away. You can celebrate Mardi Gras on skis and Memorial Day on a motorcycle. You've exited the ordinary and entered the place called Red River. Welcome! The cool place in the cool season When the snow falls, Red River becomes a winter wonderland with a long list of things to do. Find excellent skiing and snowboarding at Red River Ski & Ride Area. Five minutes away, the Enchanted Forest Cross Country Ski and Snowshoe Area offers miles of beautiful trails and unique special events. Rather rev it up? Explore 11,249-foot Greenie Peak on a snowmobile. The fun is affordable and accessible; park the car at your condo, cabin, or hotel and walk everywhere. The place to learn, Red River Ski and Ride Area Red River Ski Area is the snowmaking leader in the Southern Rocky Mountains, ensuring the best skiing and snowboarding, base to summit, regardless of the weather. PSIA- and AASI-certified instructors help novices tackle the double-blacks in no time with excellent youth and adult programs for all abilities and budgets. Already an expert? Ski challenging trails and improve your skills at one of our three terrain parks. For those who don't want to stop when the lifts close, the ski area offers snow tubing and evening snowmobile tours. The place for a good night, every night Cap off extraordinary days in Red River with memorable nights. Music lovers are especially at home here because Red River has inspired so many musicians. Local artists and traveling bands - country, rock, jazz, and alternative-play in the town's local restaurants and bars. At nightfall on winter Saturdays, marvel at the ski area's flaming torchlight parade and fireworks. They are best seen while listening to live music in the family-friendly Lift House Bar & Grill. The Community House presents many evening events each year, all free, all fun, and many for teens.
Interesting facts
It is among the 3 most family-friendly ski Resorts in New Mexico.
The vertical drop from summit to base is 1601 ft. The average difference in altitude between base and summit of Ski Resorts in the USA is 1201 ft. Most runs are therefore relatively long. The highest point of the track is 10351 ft above sea level.
The day pass at Red River Ski Area is $64 making it one of the 3 cheapest ski Resorts in New Mexico.
During the season the average snow depth at Red River Ski Area is 46 ". Snow coverage is usually best during February, offering an average base depth of 50 ". Therefore Red River Ski Area is among the 10 ski Resorts with best snow conditions in the USA.
Red River Ski Area features 90 sunny days on average per season. The average for all ski Resorts in the USA is 50 sunny days. January is the sunniest month with an average of 25 sunny days. This makes the ski resort one of the 10 sunniest in the USA.
Videos
Pot O Gold Terrain Park 4k | 01:22
Winter Snow Tubing
For more information about our Winter Tubing, check out...
Red River Ski Area Snowy Winter
http://www.redriverskiarea.comCome visit us for a...
Torchlight, the Red River Experience.
Torchlight is a special tradition in our town. Every...