Coronavirus / Covid-19 Measures
Current protective measures and security advice at Nubs Nob Ski Area:
Masks mandatory at restaurants, ski rental and shops
Face covering required in lift lines and on the chairlift
>> Read more about the Covid-19 guidelines on
The Ski Resort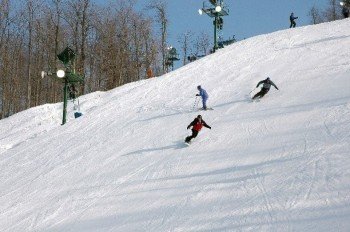 Nub´s Nob Ski Area is one of the best resorts in the Midwest. It has been rated the Midwest´s best ski resort several times by SKI Magazine and has gained multiple awards for best snow, best grooming, best half pipe and toughest bumps over the years. So you certainly won´t regret a visit at Nub´s Nob! 100 hectares of skiable terrain with 53 trails and slopes are awaiting you. Nub´s Nob offers great variety offering trails for everyone no matter if first timer or seasoned expert. They are open for night skiing 5 days a week. 242 snowguns covering the entire area cater for best snow conditions. Freestylers and wannabes shouldn´t miss Nub´s Nob´s award winning Terrain Park with its recently lengthened and upgraded Half Pipe! If skiing and snowboarding is new to you or if you need some further instruction you will find help at the Sport´s School. It offers lessons not only for ski and snowboard but also for Cross Country, Telemark, snowblade, racing, park and pipe and Nordic Skating. Thousands have learned to ski and ride here and experienced staff will help you to become a snow enthusiast, too! Nub´s Nob offers a free beginner area with a free double chairlift. There is also a mini beginner´s Terrain Park available. In addition, Nub´s Nob offers 28 km of groomed and tracked Cross Country trails for different ability levels. Nub´s Nob wants everyone to have as much fun as possible. Hence, there is a Day Care Center available where the little toddlers can have fun with other children of their age while Mummy and Daddy enjoy cruising the great slopes of Nub´s Nob!
Videos
Nub's Nob - Family | 03:07
Nub's Nob - Powder With Norm
Nub's is proud to be home to athletes and winter...