The Ski Resort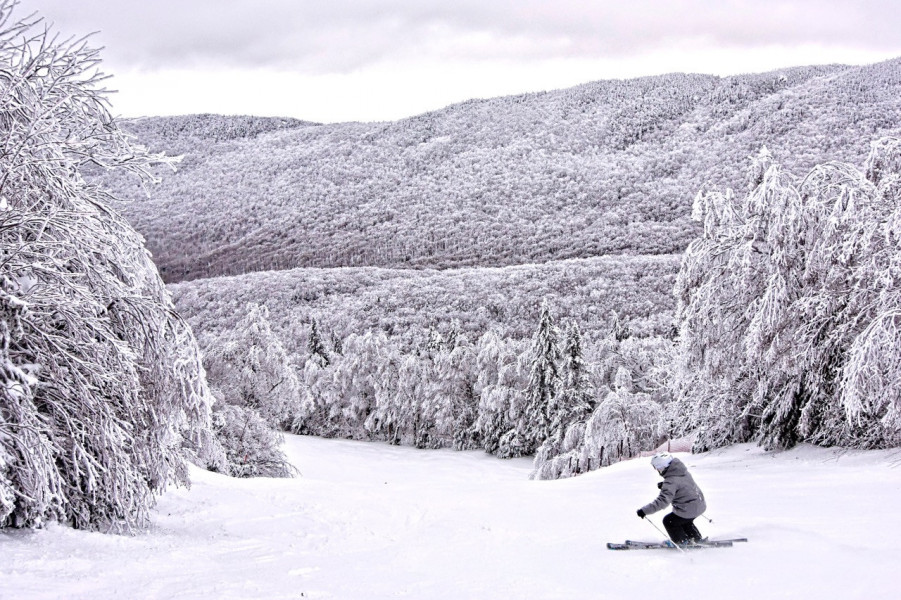 Mont Sutton is a ski resort with an enviable reputation. It offers superb skiing conditions on a total of 60 slopes, always perfectly groomed with powder snow and with a fantastic view. The technical equipment is state of the art and 9 chair lifts take guests very quickly and safely to their destination - without long waits at the lifts.
There are nice relaxed slopes for beginners as well as some black slopes, which are a challenge for every advanced skier. There is also a fun park, which is very well equipped and pleases the snowboarders heart. Finally, in the "kids learning skills" park for small children, the ski beginners can be introduced to skiing at an early age.
70 hectares of skiing fun for the whole family are completed by 4 huts. Here you can have lunch in peace or just relax in the sun. If you are here for the first time, you can book a so-called "ambassador guide" in advance. A guide will then show you the best slopes and viewpoints so that every guest can get the most out of his stay.
Interesting facts
Offering 568 acres of slopes and terrain, Mont Sutton is among the 10 largest Ski Resorts in Quebec.
Mont Sutton is among the 10 best rated Ski Resorts in Quebec.
Elevated between 1312 ft and 2756 ft, the Ski Resort is among the 5 highest elevated Ski Resorts in Quebec. The vertical drop from summit to base is 1444 ft. The average difference in altitude between base and summit of Ski Resorts in Canada is 1191 ft.
Average snow depth during the season is 25 " at summit elevation and 21 " at base elevation. Snow coverage is usually best during March, offering an average snow depth of 26 " at summit elevation and 21 " at the base.
Mont Sutton features 28 sunny days on average per season. The average for all ski Resorts in Canada is 31 sunny days. March is the sunniest month with an average of 8 sunny days.
Snow Safety & Snowmaking
Average snow depth of the last years (Summit)
(in ")
Travel Deals & Tips
Advertisement
On Mountain Dining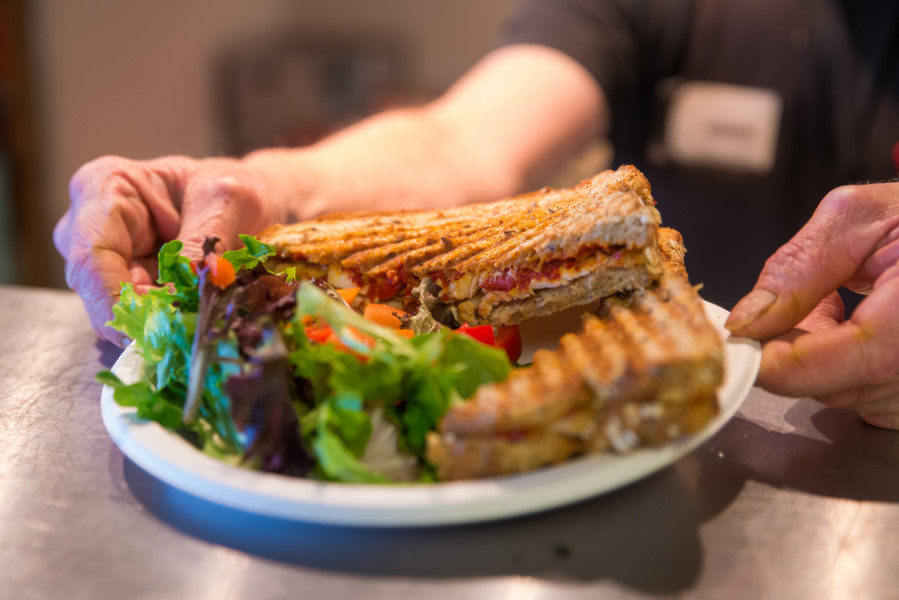 What Mont Sutton has on offer? Four fantastic chalets with restaurants and three cozy and comfy fireplaces. No matter where you find yourself on the mountain, there's a chalet nearby where you can warm up, enjoy one of their home made meals and relax. What's more? Groups are totally welcome in those different chalets; order a platter of house appetizers for a happy hour or rent the entire bar for your private event!
Chalet Alt. 400 M
Located directly at the bottom of the trails, this is Mont SUTTON's main chalet, the beating heart of the resort's activities. This is where you will find, among other things, the ticket office and the customer service counter. The perfect place to start your day! Enjoy delicious daily specials, home made every day, tuck into a panini or a salad from our salad bar in the main cafeteria. More into comfort food, like poutine and hamburgers, after a few runs? Not to worry, you are sure to find something to keep you going for the rest of the day!
Early bird? Treat yourself to the Skier's Breakfast or one of our other breakfasts, available at 7 a.m. before tearing up the trails all day long! Chalet Alt. 400 m is also where you will find a coffee counter with WiFi access. Le Petit Tucker has coffee, lattes, tea, pastries and even fresh waffles to go. Upstairs, kick back with a local beer, glass of wine, a coffee drink or a cocktail at the Bar Le Tucker's après-skis. Go on a Thursday or Friday night to enjoy our musical après-skis.
Chalet Alt. 520 M
This chalet is usually open on busy weekends. It can be accessed by chemin Réal and gives direct access to our more advanced terrain. When it is open, this chalet has a ticket booth and those who wish to may start their day here. Warm up with a tasty French onion soup or a stone oven pizza made in-house. Please note that this chalet has irregular hours of operation.
Chalet Alt. 680 M
Located at the top of chairlift II, this rustic wood chalet is perfect for families who want to warm up next to a fireplace between two runs. With its view of Sutton and intimate atmosphere, it is easily accessible to all skiers because of its close proximity to the beginner terrain. Here you can enjoy home made food with an Indian flair and hot chocolate to warm you up!
Chalet Alt. 840 M
A must at Mont SUTTON, this rustic wood chalet has an incredible panoramic view of the Réserve naturelle des Montagnes-Vertes de Sutton. Enjoy a warm soup of chili served in a bread bowl in a cozy atmosphere near the central fireplace. During the warmer days, take the opportunity to catch a few rays on the terrasse with a beautiful all natural view of the Réserve naturelle des Montagnes-Vertes de Sutton, the largest private protected area in eastern Canada.
Videos
Mont SUTTON - Purement SUTTON
De la neige au Mont SUTTON! / Snow at Mont SUTTON
Good Times Flying High at Mont Sutton! A GoPro Ski Movie.
Activities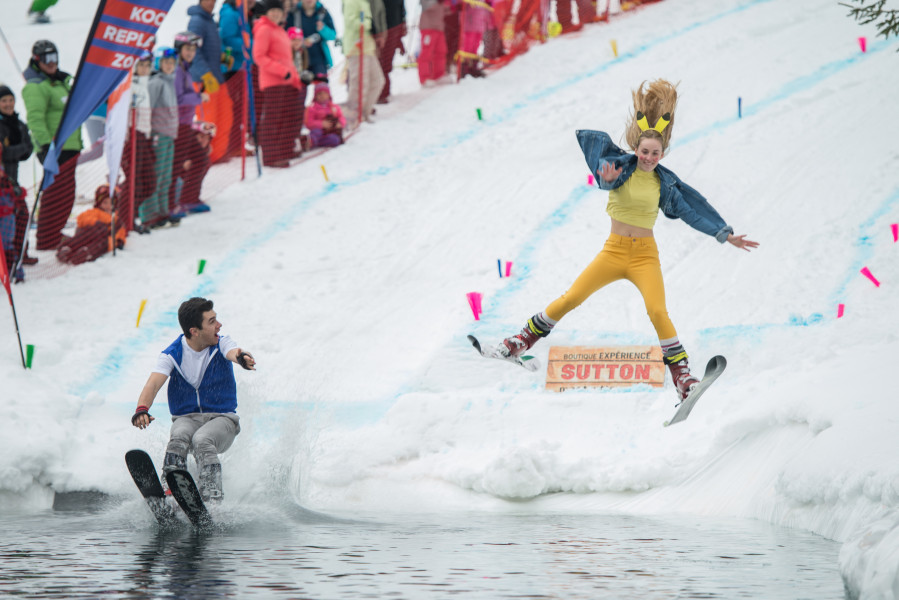 Beyond #PurementSUTTON skiing, Mont SUTTON has activities on its calendar all season long! With your family, your loved ones, by yourself or in a group, find the perfect activity for you on your day of skiing or for a well-filled vacation: Christmas Holidays, School Break, Valentine's Day, Easter, themed après-skis, animation in the snow park, ski demos and more!
Après-Ski and Nightlife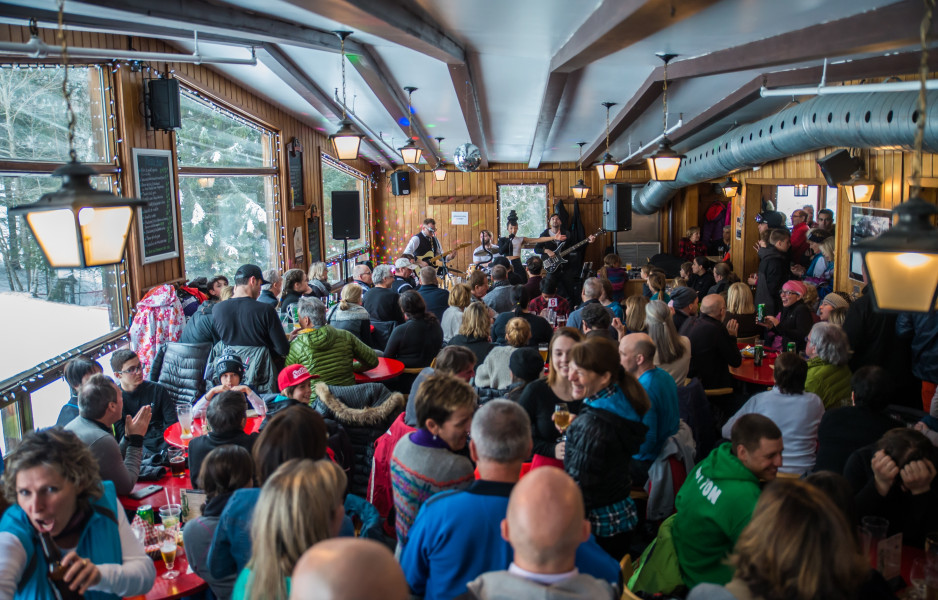 The Bar Le Tucker is THE place to be after a day on the slopes! In an authentic and cozy atmosphere, you will be able to: Relax in the "TV" section, hang out by the fire in the Carlsberg Lounge, be amazed by the view of the mountain or even catch some sun on the terrace, weather allowing; sip one of our beers or a delightful cocktail, snack on a plate of our appetizers, and access the wireless Internet network for free.
Special events not to be missed at Bar Le Tucker include: Live music/après-ski every Friday of the season, open mic Thursdays, the Tucker birthday party, lots of themed one-offs as well as Snow on the Beach.
Infrastructure & Rental
Our Rental Center: a distinct approach with new and innovative equipment! Thanks to the recommendations of a specialized team and to the new "Experience Auto Turn Rocker" technology offered on the skis and snowboards at the rental center, skiers of all ages and levels will learn faster and become more versatile. This innovative technology, such as the rocker tip and tail, delivers easy steering and maneuverability in all conditions and terrain.
Our professional instructors – who wish nothing more than to share their passion for winter sports – use their diverse strengths and wide knowledge of the sport to allow you to master personalized techniques, while helping you go as far as your ambitions on the slopes will take you. Whether it is for a ski, snowboard or telemark lesson, join the SUTTON Snow School team for a fun winter filled with discoveries and new sensations.
Skischools
Number of Snowboard Schools:
1