Interesting facts
Offering 22 miles of slopes and terrain, Melchsee Frutt is among the 10 largest Ski Resorts in the Lucerne - Lake Lucerne Region.
Melchsee Frutt is among the 10 best rated Ski Resorts in Switzerland.
Elevated between 3543 ft and 7398 ft, the Ski Resort is among the 5 highest elevated Ski Resorts in the Lucerne - Lake Lucerne Region. The vertical drop from summit to base is 3855 ft. The average difference in altitude between base and summit of Ski Resorts in Switzerland is 2884 ft. Most runs are therefore relatively long.
Season starts on Dec 14 and ends on Apr 13 (121 days). Average season duration in Switzerland is 113 days.
Average snow depth during the season (Dec 14 to Apr 13) is 60 " at summit elevation and 13 " at base elevation. Snow coverage is usually best during March, offering an average snow depth of 72 " at summit elevation and 11 " at the base. Therefore Melchsee Frutt is among the 3 ski Resorts with best snow conditions in the Lucerne - Lake Lucerne Region.
Melchsee Frutt features 58 sunny days on average per season. The average for all ski Resorts in Switzerland is 62 sunny days. February is the sunniest month with an average of 19 sunny days. This makes the ski resort one of the 5 sunniest in the Lucerne - Lake Lucerne Region.
The Ski Resort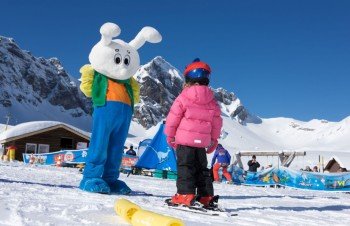 The small holiday region of Melchsee-Frutt / Melchtal / Kerns lies at the heart of central Switzerland, surrounded by lakes and mountains. The centre for tourism in this expansive region is the high valley of Melchsee-Frutt at an altitude of 2000 metres, with its traffic-free, family-friendly resort on the shores of the little mountain lake. The Melchsee-Frutt winter sports' regions guarantee snow from altitudes of 1080m to 2255m. This high-lying valley with its sunny winter hiking and cross-country ski trails is flanked by two ski regions: from the Balmeregghorn and the Erzegg (with free-style park) two wide, sunny pistes descend to the valley floor. Facing these is the Bonistock where steeper pistes descend by more than 1000 metres of altitude. The 8-kilometre descent to Stöckalp is a real treat for toboggan enthusiasts. Children can have fun in the Fruttli-Park with its magic carpet and ski carousel.
Snow Safety & Snowmaking
Snow Making Machines:
110
Snowphone
+41 (0)41 6697070
Average snow depth of the last years (Summit)
(in ")